Freedom and Responsibility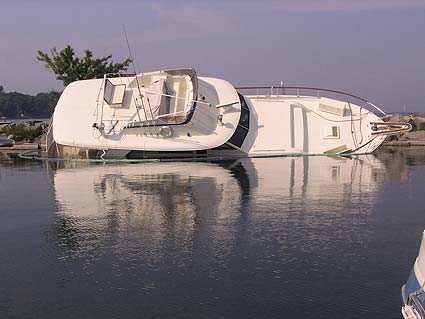 Recently during a particularly serious late-night thunderstorm, our oldest son's 31-foot Bombay Clipper pulled anchor and drifted precariously close to a rocky shoreline. James has spent thousands of dollars and hundreds of hours working on restoring this antique sailboat over the past five years—it is his pride and joy. Thankfully, he was up and at 'em well before sunup the next day to discover the situation. With help from a couple fellow boaters, serious damage was averted.
Twenty miles up the coast and two days later, after an abrupt change of wind direction a 25-foot charter boat went down with six clients aboard. Thankfully a USCG was patrolling the area and plucked the family, first mate and captain out of the choppy seas.
Boating remains one of our nation's greatest pastimes. Time spent on the water frees the soul from the dreads of everyday toil. The freedom of boating can't be replicated at the gym, opera or sports stadium. It has priceless rewards.
No matter if you're tooling along in a 53-foot Viking or hopping its wake in an 18-foot Hewes, the adventure and self-reliance of boating connects us with our primal instincts of freedom and survival. Our forefathers came to America aboard ships to escape persecution, and still today there are many people willing to sacrifice everything, including their lives, to cross the high seas to embrace America's freedoms.
The majority of us are weekend warriors, working nine-to-five weekdays, waiting and biding for our time on the water, living for the freedom it provides in small doses. It doesn't make us any less adventurous or independent, only tied down by responsibilities. It's no wonder many of us have dreamed of owning a fishing boat and making a living on the water or, perhaps, buying a sailboat and cruising into the distant horizon.
However, with the freedom of boating comes great responsibility. Caring for the safety of those aboard your vessel, other boater sharing the water and the environment that surrounds you is a priority.
Twenty years from now you will be more disappointed by the things that you didn't do than by the ones you did do. So throw off the bowlines. Sail away from the safe harbor. Catch the trade winds in your sails. Explore. Dream. Discover.
– Mark Twain
The following two tabs change content below.
Fishing Magazine, Coastal Angler & The Angler Magazine is your leading source for freshwater fishing and saltwater fishing videos, fishing photos, saltwater fishing.
Latest posts by Coastal Angler Magazine (see all)
Comments