Fishin' For Blues, Whites and Blacks in Marlin Alley
---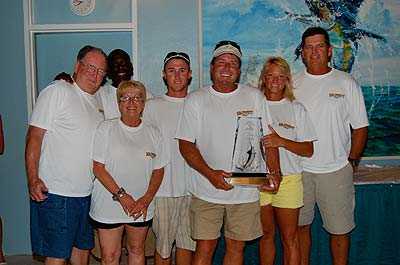 By: Misti Guertin
Treasure Cay Resort and Marina hosted the first annual Treasure Cay Billfish Tournament in 1984. Soon afterward, word spread worldwide among the fishing community that Treasure Cay, Abaco, was the number one spot for catching blue marlin in the Bahamas.
Twenty-eight years later, the marlin action is still hot in Abaco. The Treasure Cay Billfish Tournament has become one of the top tournaments in the Bahamas, and it has earned the reputation as the "best family friendly tournament in the islands."
Next month on June 12-17, anglers and their families from the U.S., the Bahamas and, in the past, as far away as Jamaica, will gather in Abaco to compete for trophies and cash, with a guaranteed cash payout from $10,000 up to $50,000 (contingent on the number of boats). According to tournament director Jim Brown, who has been with the tournament since inception, in the past as many as 40-plus boats and as little as four boats have fished the tournament. Early entries are up, and organizers are cautiously optimistic that this year's fleet will exceed last year's.
Open to the public, the tournament format consists of multiple awards for billfish, plus awards for tuna, dolphin and wahoo. Release point standings are verified by the participant's own digital and/or video camera with an image that can verify the time and date the photo was taken.
According to Brown, the Treasure Cay Billfish was the first Bahamian tournament to adopt photo verification in lieu of onboard observers. Contrary to other tournaments, length minimums for fish brought into the dock were also increased to encourage conservation before it was in vogue to do so. Brown is proud that the tournament has been on the cutting edge, introducing and adopting new procedures that range from conservation to ensuring a fair competitive platform for all participants.
The $2,950 tournament registration fee includes up to six team members and includes the boat entry, dinners, cocktail party and a team goody bag. Of note, this year's tournament organizers successfully arranged a $300 credit on the required Bahamas Cruising Permit for non-Bahamian boats who register for the tournament. Tournament proceeds benefit the children of Treasure Cay Primary School.
As a sanctioned event of the World Billfish Series, the Treasure Cay Billfish Tournament's top angler is eligible to participate in the World Billfish Series Grand Championships. The tournament is also a qualifier for the 2012 IGFA Offshore World Championships, so the tournament's top team is eligible to participate in that world-class event, which will be held in Cabo San Lucas.
Besides great food, camaraderie, Junkanoo, live entertainment and family social events, Treasure Cay's world-renowned 3.5-mile stretch of sugar-soft, powdery white sand beach, matched only in brilliance by sparkling turquoise water—which was voted one of the region's top 10 beaches in a reader's poll by Caribbean Travel & Life—makes this a tournament not to miss!
To learn more, visit www.treasurecayfishing.com. See you in Abaco!
CAPTION: Team Kilowett of Lighthouse Point, Fla., received the first place team award for the 27th Annual Treasure Cay Billfish Tournament, held June 13-18, 2010, in Abaco, Bahamas. Left to right: Norman Flack, Josler Pierre, Sylvia Flack, Capt. Scott Hitch, Eddie Flack, Lisa Flack and John Bassett. Photo by Paula Fishman.