The Short Stroke: Fighting Fish in Deep Water
---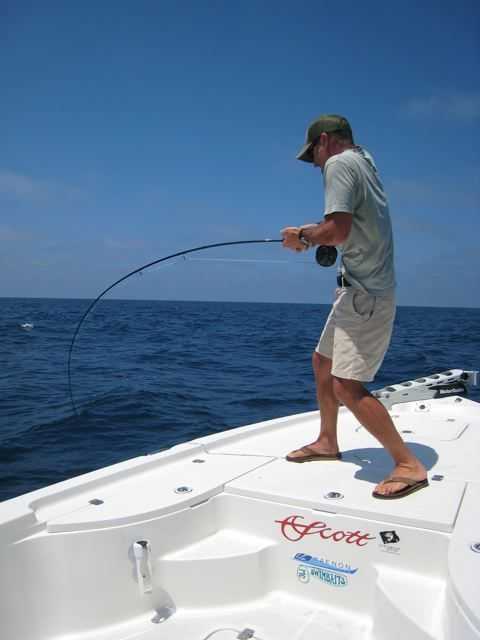 If you have spent any time involved in the sport of conventional saltwater fishing, you will have observed, I'm sure, that the best anglers on a charter boat will always bring their fish to gaff with as little fanfare as possible. These guys move fluidly, keeping constant pressure on the fish as it takes them around the boat, sometimes twice, all the time keeping one thing in mind, bringing that fish in quickly. You may also have noticed that their rod tip digs deep into the water as they reel in line, each dig followed by a short lift of the rod tip, while using their legs when lifting the fish up from the depths. This technique is termed the "Short Stroke," a technique not limited to the conventional fisherman for it serves as well as the best way for a fly fisherman to fight a blue water game fish.
There are three key elements to the technique.
1) Keep you shoulder square to the fish at all times. If your shoulders are not square to the fish you loose valuable leverage when lifting the fish from the depths.
2) Keep the rod tip pointed down at the fish, a move that will keep you from bringing up your rod to a high rod angle position. Any rod angle higher then 90-degrees is of little help when fighting a blue water game fish with the fly rod. The fly rod is designed to fight fish from the butt of the rod. Raising the rod above 90 degrees shifts the fighting energy from the butt of the rod to the mid-section and rod tip which should never happen. When you're bringing a fish up from deep water and the fish takes a break, you should put on the heat. Never let the fish rest. Always try to keep moving up towards the surface. Break the fish as soon as your can.
3) Finally, when bringing a fish out of deep water, make short pumps of the rod while retrieving line as the rod tip drops. This is called the "short stroke."