Bonefish 101
---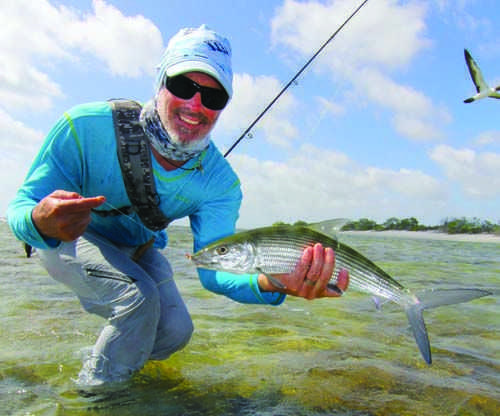 The bonefish, considered one of the most often sought after saltwater game fish, is elusive, spooky, and fast, a ghost like fish that poses a real challenge to fly fisherman. It makes its home in some of the most beautiful tropic locations worldwide.
Bonefish range in sizes varying from small to medium-sized (2-5 lbs) fish in Caribbean waters to reel rod-benders in Florida and Hawaii in the 8-10 lb range. But whatever its size, the bonefish is a worthy adversary to the saltwater fly fisherman.
When fishing bonefish on the fly, the fisherman is most successful when sight-casting to fish cruising and tailing in crystal-clear shallow water of sand flats or coral reefs. Locating the fish, however, doesn't automatically mean hookup. The bonefish, an excitable rascal, seems ever on the move, constantly changing directions, darting to all points of the compass.
A sloppy cast will leave the fly fisherman with egg-on-his-face. Spot-on casts are essential to success not only because of the bonefish's spooky and unpredictable nature but also because of the bonefish's usually wind-swept habitat.
The angler should be able to present a fifty-foot cast quickly and accurately, skillfully pick his cast off the water, and redirect his next cast to whatever location the skittish fish has chosen.
To find bonefish, look for those areas where the fish are mudding or tailing. Fish in these situations are ways the bonefish feed while in shallow water.
The best times to fish bonefish? Spring and summer provide the best opportunities for success.
For tackle a 6 to 9 weight rod matched with a large arbor reel packed with 150 yards of backing and a floating line will work great. A long leader 10 to 12 feet is often needed when fishing bonefish, so practice casting this type of leader. A skillful presentation will be the key to successfully catching and releasing your first bonefish.
I think the Bahamas are the best place for the aspiring bone fisher. There are many great lodges that are close to world class fishing grounds. Plus the volume of fish you'll be able to cast to is spectacular. Other great places are Belize, Christmas Island and the Yucatan peninsula.