Cotton Tree Lodge, Belize
---
A Bucket List Destination for Kids and Adults
By Capt. Mike McNamara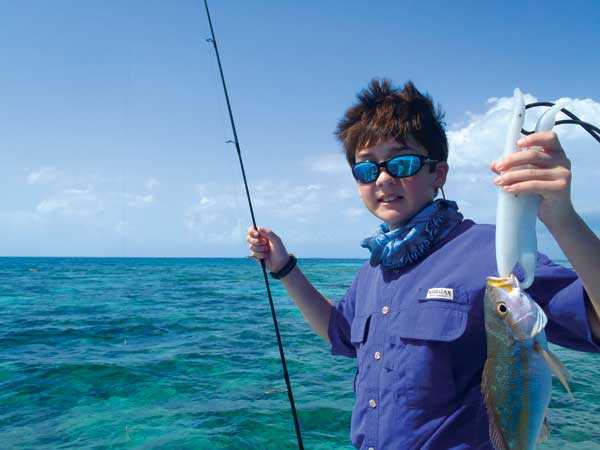 Time to accept a new concept, bucket list trips that are completely kid friendly and have all the bucket needs associated with the once in a life time experience. Now, add the twist of letting the kids dream up the place, with one limitation, of course, fish!
Here is the story. Christmas 2012, no the world did not end, the Mayans must have miscalculated, we assume, but the kids still had questions: Mainly, "What happened?" With no quality answer in mind, it was time to do a little research. The plan: I found a place to get your question answered, and it is salty. Bring on the Cotton Tree Lodge, Belize.
Of course the folks at the lodge assured us the lodge was super kid friendly, but we were truly taken back by the number of families passing through this remote jungle lodge. We spent six days in jungle adventure, from holler monkeys, Mayan temples, rope swings, rafting trips, and zip lines. This was all done on the down time between salt water fishing adventures.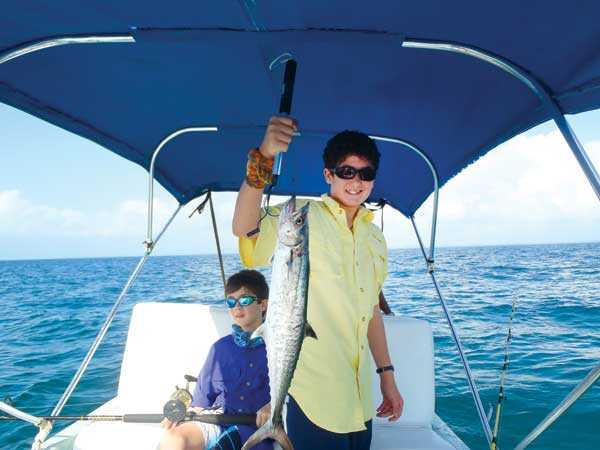 Punta Gorda lies on the southern coast of Belize, in the Toledo District. This is mainland Belize, with a coastline of over one hundred small mangrove-fringed islands. Throw in a mixed bag of coral reef, and all tropical game fish are a target. From bonefish, permit, tarpon, barracudas, kingfish, and goliath grouper, there is seemingly no end to this fish catching resource. All this happens inside the border of Port Honduras Marine Reserve inside the Golfe de Honduras. They have very strict catch and release zones as well as catch and keep. This is the beginning of a fisheries management system in Belize.
We had the pleasure of fishing with Capt. Dan and Capt. Alex for the week. These two were extraordinary: English speaking guides, polite and full service, they knew their water, and better yet they knew their game. After a spectacular ride into the bay in classic wooden pangas powered by four stoke Yamahas, it did not take us long to find and hook some hungry fish.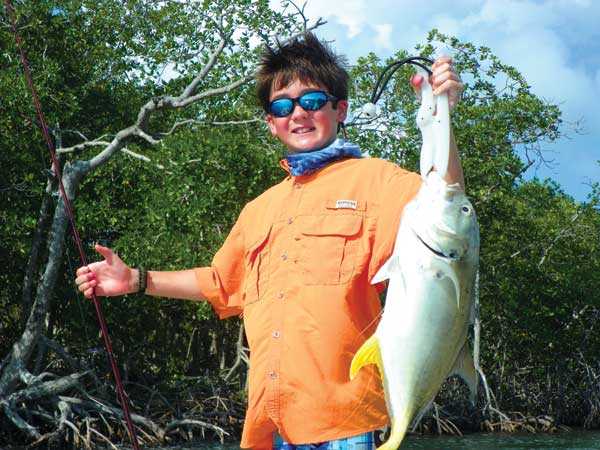 As some trips go, our week was full of 20-knot winds and scattered sun and showers. It was just another day at the office for our guides. Their pangas are equipped with bimini tops, and set up to carry four anglers. This left plenty of bow space to fish two anglers at a time. From trolling the deep flats for Spanish mackerel and kingfish, to live bait fishing for drag screaming barracudas, all techniques produced fish. Our favorite game was tossing cut bait at the mangrove island shorelines and getting smashed by the unknown. Some smashes ended in victory and others ending with us wishing we had bigger gear. Those jokers are hard to pull out of the mangroves. It was a perfect kid fishing adventure, numerous hook-ups and days of excitement!
If you are headed to Punta Gorda, or the Cotton Tree Lodge, and you are familiar to fishing for inshore saltwater species, bring some gear. Cotton Tree Lodge is not a full-service fishing lodge, but is a full service destination. The guides have gear, but you will be happier bringing your own. Travel rods in the ten to twenty pound class will catch most fish. Outfitted with 3000 or 4000 series spinning reels will create the perfect combo. Also, bring some tackle, circle hooks, jig heads, fluorocarbon leader (20- pound and 40-pound test), and even a few topwater lures that will get smashed by predators that have never seen such a thing. If you are feeling generous, bring some extra tackle as gifts, or leave behind the leftovers. Belize is still not an easy place to re-supply your tackle if you're a fishing guide.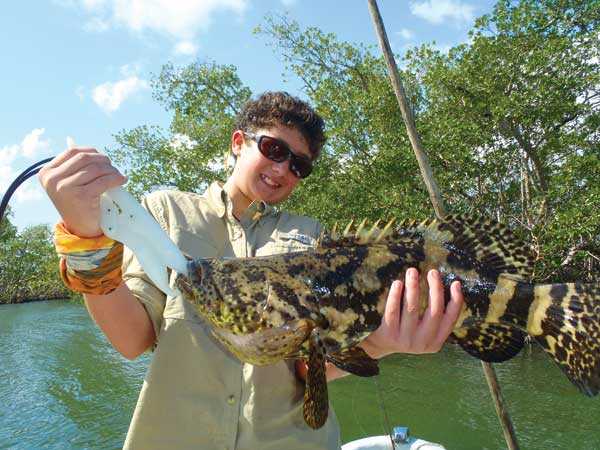 The Cotton Tree Lodge is a serious professionally managed lodge. The staff was full service, from airport to exit, the cottages are unique and clean, the food was top notch, and personal kid food request was no issue. The main lodge bustled every evening with the sounds of kids playing with other kids. Families sharing the days adventures over dessert, drinks, and happiness. It truly was a week of exploration and excitement.
This trip is for the adventurous family, with kids as young as ten being quite fine. Enjoy the journey to southern Belize, and enjoy the totally English speaking locals. Enjoy your time spent in a place far from the states, and enjoy the tropical waters of the coast. Most important, Bucket List Jr. is happening at the Cotton Tree.