Winter Fishing on Mississippi Gulf Coast
---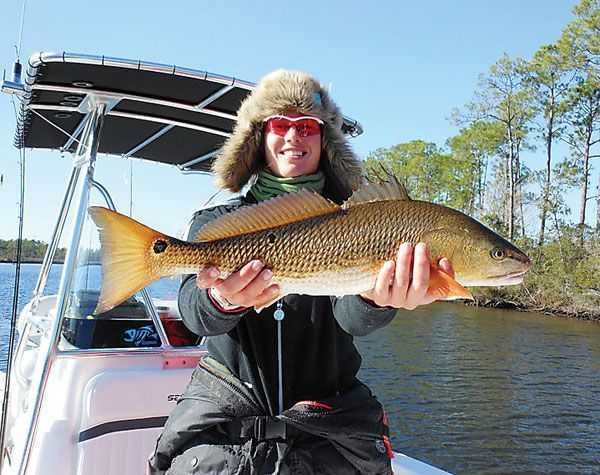 The harsh air of winter can grind down even the strongest of spirits. If you're visiting the Gulf Coast of Mississippi then your winter just got a whole lot better. Call a charter boat captain and he'll help you pick a warm and sunny day for fishing. A couple of warm days salt water fishing will break winters icy grip in two and you'll feel like a new person.
This week I had the opportunity to fish with Capt. John Swartz, owner of Shallow Draft Charters. His specialty is inshore fishing. Winter fishing presents its own unique set of challenges and Capt. John is more than up to the task. I can say without any second thought he is an expert at locating speckled trout, redfish, sheepsheads and black drums.
I am very proud to say that Capt. John is safety conscious. Before each trip he takes time to go over safety procedures with his clients. Personally, I cannot stress how important it is to know simple things like: where the GPS readings are, where the life jackets are stowed, and where the fire extinguishers are located. Shallow Draft Charters fishes a new boat with ample space for three people along with room for storage of coolers, clothes, tackle, etc. This is big deal with me, fishing and falling are not words to be used together. His boat is really clean, too and I really like a clean boat.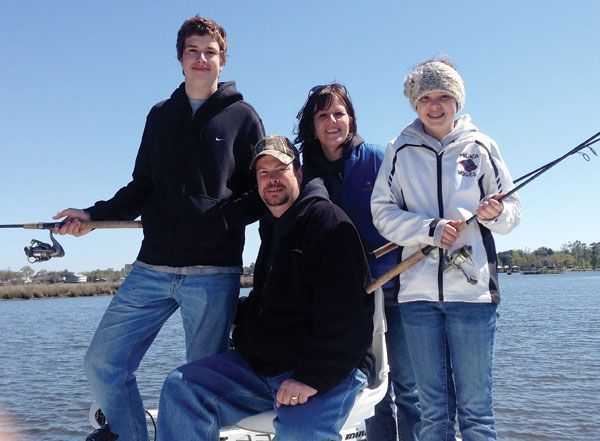 Capt. John has a wealth of knowledge about the bays and bayous of the Gulf Coast. Knowing where the fish go based on conditions good or bad is invaluable. The day that I fished with him, he was relentless in his quest to find us fish. His desire to get us on fish was noticed by everyone on the boat. The tenacity of a captain is a quality that speaks volumes about his character. We moved steadily from one fishing hole to the next constantly working baits until we found fish. Once we found fish, Capt. John kept us on them 'till quitting time (we had to quit though he was game for more). The fishing action was fast and the fish large.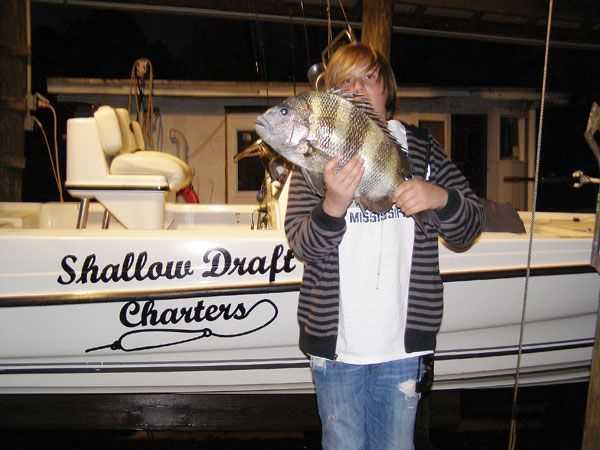 Capt. John keeps first-rate rods and reels on his boat. Additionally, he had plenty of fresh live bait (shrimp) on hand. Running out of bait is one of my pet peeves—Capt. John made sure that didn't happen.
The fishermen that chartered with Capt. John on our trip were New York State natives. These fishermen had little experience saltwater fishing, but Capt. John was very patient with them. Capt. John Swartz knows how to turn a family fishing charter into a perfect day. Chartering successful trips with novice fishermen and children takes a very specific skill set and he definitely excels at it.
Shallow Draft Charters does drop offs and pick ups to the islands, as well as boating tours of the bays and bayous. You can reach Shallow Draft Charters of Ocean Springs, Mississippi at 228-234-2401.
I'm Ron and I'm all about fishing. When I say I would recommend Shallow Draft Charters and Capt. John Swartz for any fishing trip winter or summer you better believe I mean it.