By Capt. Scott Fawcett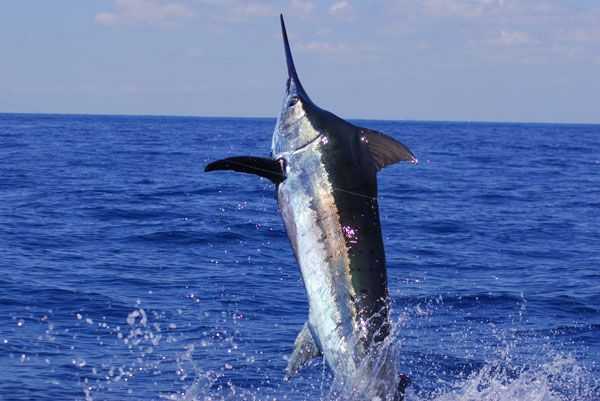 On May 8th 2013, repeat Off the Chain charter clients Tony Dilworth and Brian Perryman introduced me to their friend Andrew Aristotelis as we all headed out of the Saint Lucie Inlet for a full day reef and wreck fishing charter out of Stuart, Florida aboard my 32' Contender. Tony and Brian have fished with me a handful of times over the last year and have always had extremely good luck. Little did we know that this trip would make no exception.
A few months, back during a slow day of trolling and only catching one sailfish and a couple of small dolphin, I stopped on a couple of bottom spots and introduced Tony and Brian to Stuart's local amberjack population. We also were headed for a spot known for huge 'cuda. Tony and Brian are big catch and release advocates and wanted Andrew to get a taste of how strong these amberjacks are, and, if possible, go back to the 'cuda spot, or try for permit if conditions allowed.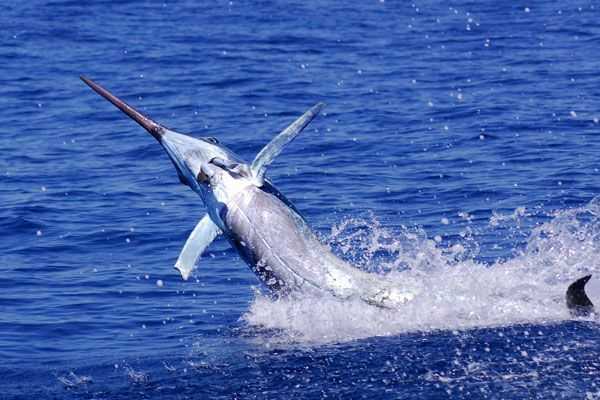 Bait was difficult to catch that morning, so I was glad that we brought a few dozen pilchards and some crabs. The first half of the day was spent jumping from bottom spot to bottom spot with little to no luck. We made our way inshore from The Peanut (175 feet of water, about 10 miles north of the Saint Lucie Inlet), and were headed to another bottom spot when we past a huge black plastic mat, and what at first I thought was a sailfish under it. I spun the boat around and grabbed our Blackfin spinning rod with Fin-Nor Bait Runner reel and quickly cut the cobia jig off and tied a 6/O Mustad circle hook on and hooked up a live bait. As we made our way back to the fish I knew it was awfully big for a sail, but didn't want to say "marlin" and be wrong. However, I knew it was a big billfish for sure.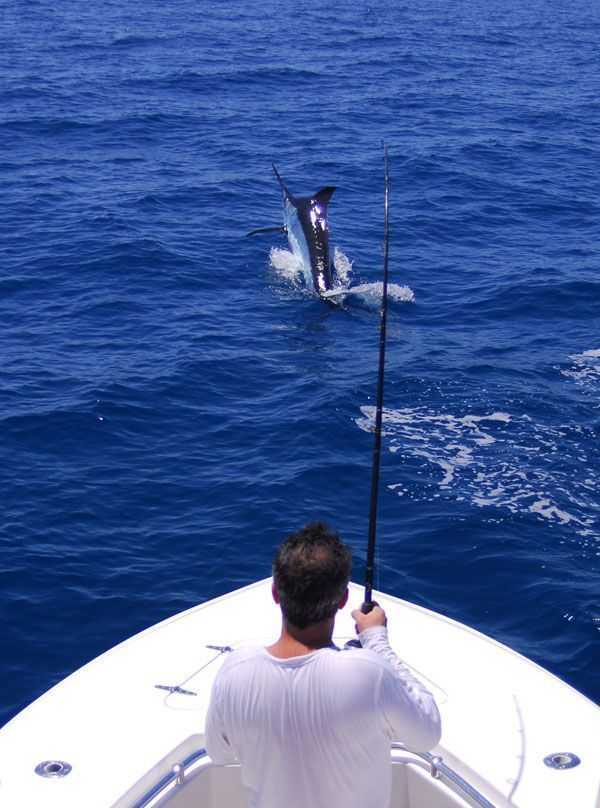 I pulled the Yamahas out of gear and we slid right up to it. Standing on the bow deck I pitched the bait to the fish, put the Bait Runner on and handed the rod to Andrew. At this point it was very obvious that it was no sailfish! We all saw the 400 to 500 pound blue marlin follow our bait half way back to the boat before it ate. I told Andrew to slowly reel. We came tight and the fish just lay under the boat for a few seconds before starting to make a slow run offshore. With only 16 lb. test line and a 50 lb. leader, we played the fish extremely light in order not to chafe it off. It took Andrew about 20 minutes to get the leader on the rod (which makes it an official catch), but instead of cutting the leader we decided to tighten the drag to see if we could get the fish to put on a show.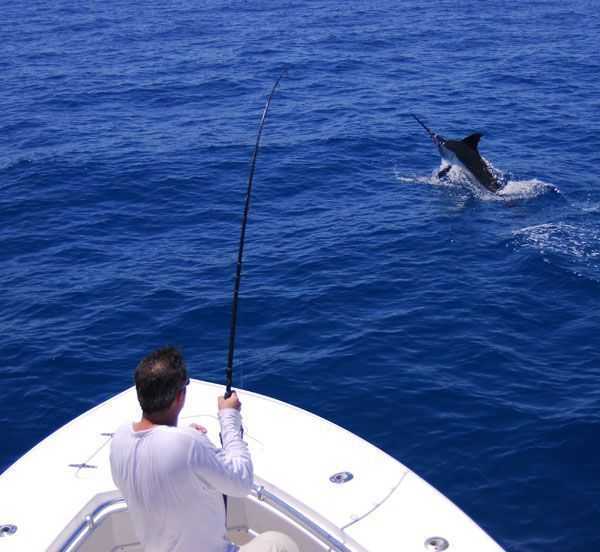 It worked. As soon as the extra drag was applied the fish made a number of unbelievable runs and jumps. She "grey hounded" away from the boat in a series of 30 jumps or so, with us in hot pursuit, and never more than 100 feet away. She was so big she never even got her whole body out of the water. We were so close to her that you could hear the water being thrashed as she tore it up. It felt as if you could reach out and touch this amazing fish as we were almost on plane running along side of her, chasing her down for the release. It was the perfect fish, and it could not have performed any better for us. From seeing it laying under the piece of plastic like a dolphin, to watching it inhale the bait so slowly, to watching this huge fish loafing along the side of the boat, to backing the drag off to virtually nothing when we couldn't gain line, and having the fish come right up under the boat again so we could get the release, every aspect of this release is what all anglers dream of. To watch it unfold before my eyes was nothing short of the adventure of a lifetime. It was way cool from start to finish, not to mention, it was my birthday! What a present!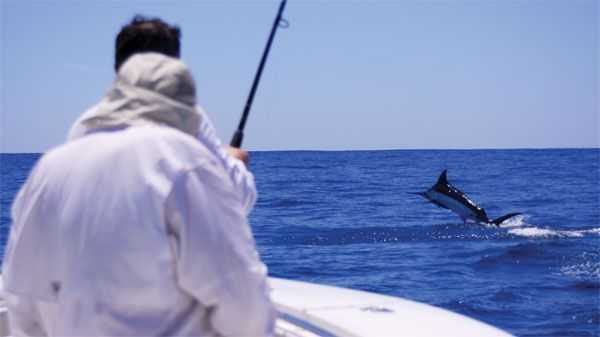 After Andrew's epic battle, an easy 20 to1 fish pound / line pound ratio, we got back to the task at hand. We headed back to the reef, using jigging rods with Williamson Jigs and meat stix with big live baits. We caught a few 40 to 50 pound AJ's and lost a few more. When the guys said "uncle" we ran inshore to look for the permit. I hopped up in the tower, and it didn't take long to find two huge schools. With two ultra lights baited with live crabs we sight casted to permit on the surface for the last hour of the day. There were some nice fish in there, too. We weighed one 35 pounds before the release.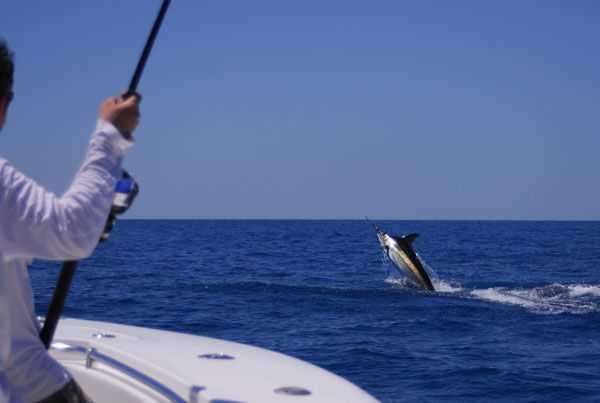 I can't believe it! Catching blue marlin and permit in the same day, right here in my back yard. It just goes to show; when you're fishing the waters of Stuart and the Treasure Coast, you need to be ready for everything. I know I'll never forget it, and Tony, Brian and Andrew say the same thing. Man, I love my job.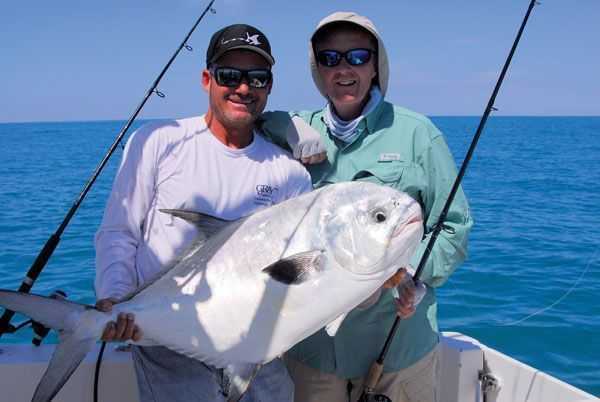 Capt. Scott Fawcett a veteran tournament winning captain, operates a successful charter operation in Stuart, Florida. He can be reached at: Off The Chain Fishing Charters
www.offthechainfishing.com. Email: fishscottyf@bellsouth.net. Phone: 772-285-1055.