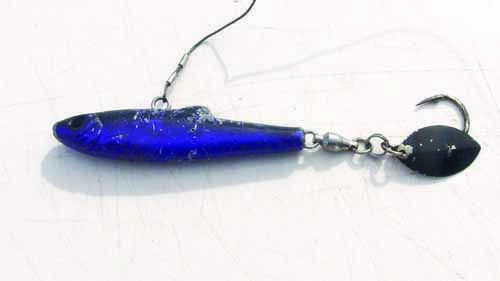 I am a strong believer in the title of this article, and with that being said, I will be talking about high speed trolling. I have had many trips start and/or end with a bang! If you run offshore to bottom fish and/or troll, it is not a bad idea to fish while you are running. The tackle is a little different for this high speed trolling, as well as the lures, but is one of the most productive ways you can hunt for wahoo.
I'm not saying that you should high-speed troll for the entire ride out, (but it is not a bad idea either), as wahoo are not the only species of fish you can catch when trolling at 20-plus knots.
Speed is one of the main considerations in this style of fishing. Some boats will travel too fast to the fishing grounds to high-speed troll, but for the boats that can bring the speed back to under 25 knots, this is a nice way to start the day out, and a way to search for the fish. Typically, if you find the bait and the water temps above 68 degrees, chances are, there could be wahoo and other palegics there.
Wahoo are occasionally in areas that you would not expect them to be, and this is especially true during the late spring and fall. When the water temperature climbs into the high 60s (in the spring), and falls into the upper 60s (in the fall), wahoo can be much closer to the hill than you think. For example, we had a nice wahoo bite in water under 100 feet deep this year.
There are proven wahoo lures for this high speed game that include the Banchee from ———-, the Whodini from South Chatham Tackle, the WhoGotCha from Barefoot Fishing just to name a few. There are many weights that are effective for different speeds, and different rod/reel/line/leader combinations, but we will not get into all that for this article.
There are many opinions that are out there on the Internet. Just Google the words "high speed trolling" and you will get more than you may want to read and watch, but make your own decisions about the gear and lures and get after it. You never can tell—you may catch that one fish that saves the day, or the fish of a lifetime, if you just have bait in the water.
Be safe, and keep your drag tight.