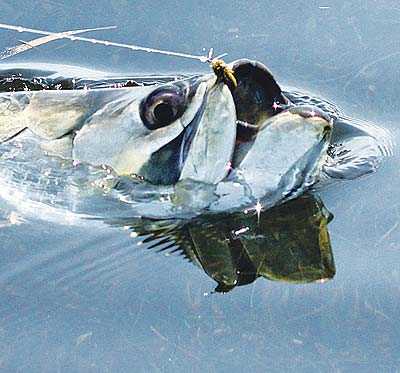 By Capt. Pier Milito
Time and accuracy (quick and accurate) are two components that can make it or break it for anglers when fishing for tarpon on the fly.
Time can be broken down by saying, "Get the fly out in front of the tarpon as quickly as possible," but only after you have spotted the fish and know which direction, speed, and depth the fish is traveling.
Accuracy can be broken down by saying, "Get the fly to the precise location."  The precise location is the spot in the direct path of the fish you are targeting; you must also take fish depth, fish swim speed, water currents, and wind speeds and direction into consideration.
Other key components to a successful hook up include rigging, fly selection, and stripping speed and rhythm. Rigging is important before and after the hook up. If you have a poorly rigged leader system you can alter the natural swim pattern of the fly and/or cause the leader system to be so visible that the fish will see or notice it causing his/her appetite to shut down and refuse your offering. Poor rigging can also lead to fish break offs once hooked. Keep in mind that rigging also includes the knot that you use to connect the leader system to your fly line. I have tested knot strength(s) for many years and the two knots that are most common in connecting the fly leader system to the fly line are the nail knot and the Albright. In all of the years of knot testing the Albright has always outperformed the nail knot in this particular connection. So much so, that I will not use anything other than the Albright on all of my fly fishing rods above an 8 weight.  Fly selection is a controversial subject. Purposely, not getting into too much detail, most would agree that size and the right color matters. The speed and rhythm at which you strip a tarpon fly, in my humble opinion, once all other criteria has been met, are the two most important reasons why some fish eat and others don't.
Concentrating on the basics and keeping both timing and accuracy in mind, it is also important I reiterate that the quicker you get the fly fishing in front of the tarpon and, therefore, the further away from your skiff you present the fly, the better your chances are of hooking up. And, of course, the opposite is also true, the longer it takes you to place the fly fishing in front of the tarpon the less likely you are to hook up.
So keep in mind that the longer it takes you to get the fly fishing to a tarpon coming to you, the better the chances the fish will have of seeing, feeling and/or hearing you. When these fish become aware of the skiff and or angler(s) presence the likelihood of feeding drops exponentially.