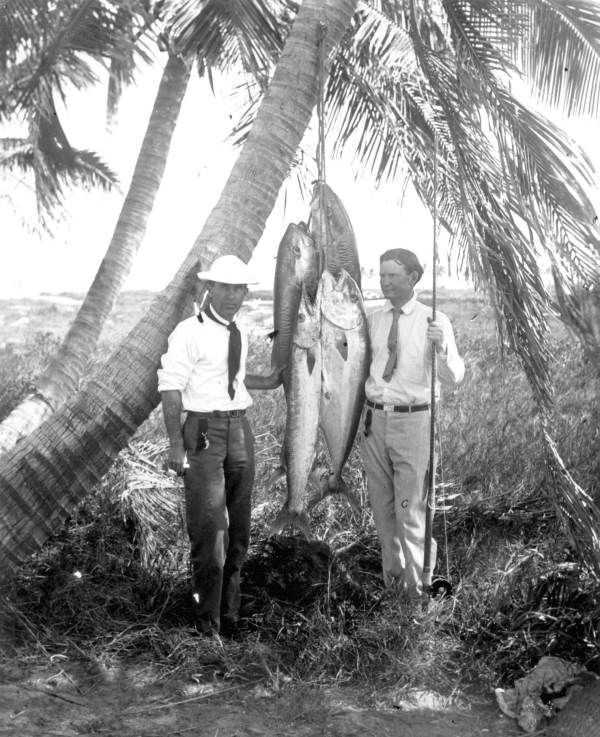 Novelist Zane Grey (1872 – 1939) was a very popular writer of adventure novels often set in the American West. Novels like Riders of the Purple Sage (1912) brought him much wealth and fame, especially as his many stories were made into over 100 films.
He and his brother discovered the Florida Keys by chance in 1910 when they were on their way to Mexico for tarpon fishing. They learned that Mexico was experiencing a yellow fever epidemic and so diverted their trip to a small fishing village, Long Key, which developer Henry Flagler had built in the Florida Keys.
The fishing camp, consisting of a three-story wooden hotel and several cottages, was on the ocean side, while the docks were on the bay side—with a tunnel under the roadbed connecting the two sides.
Zane Grey used the fishing camp as a quiet place to write such novels as Wild Horse Mesa (1928) and Code of the West (1934). In his article, "Gulf Stream Fishing," in his Tales of Fishes (1919), he wrote about how he used light-tackle gear to catch kingfish and sailfish off Long Key.
He popularized big-game fishing by his columns in the Outdoor Life magazine and by his founding of the Long Key Fishing Club, which he served as president of from 1917 to 1920. He became well known for catching huge sailfish. A nearby Zane Grey Creek keeps his memory alive in the Keys.
Although he once commented that "the sea, from which all life springs, has been equally with the desert my teacher and religion," he was never able to write a great sea novel. But his column writing about Florida fishing attracted countless other anglers, not only to the Keys, but also to the offshore Gulf Stream, where he loved to fish. Grey's son claimed that his father spent an average of 300 days a year fishing in Florida and elsewhere.
Grey also popularized fishing in California, Nova Scotia, Australia, and New Zealand. Although a 1935 hurricane destroyed the Long Key Fishing Club and destroyed Flagler's Overseas Railroad to Key West, a historic plaque at Long Key memorialized Grey's visits there.
Zane Grey would be just one of many anglers who discovered the riches of Florida waters and whose writings attracted thousands of other fishermen to the present day.
Kevin McCarthy, the editor of "The Book Lover's Guide to Florida" (Pineapple Press, 1992), can be reached at kevinkadin@yahoo.com.