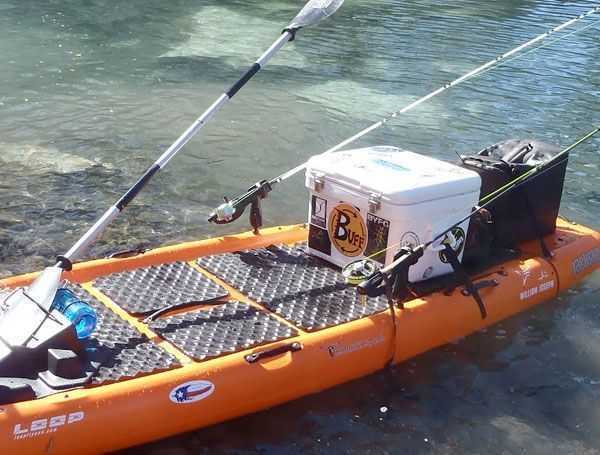 Ok, I was a kayaker. I used to kayak fish at every opportunity I had to target saltwater game from Southern California to the Gulf of Mexico. I found that the kayak helped me when fishing redfish in super skinny water or sneaking up on laid up Tarpon in the mangroves. The kayak got me into places I would have never been able to fish with a skiff. However, I was bitten by the Board bug 30 years ago…
I recall 30 years ago taking my 10 foot long board out into the kelp beds off San Diego and fishing for yellowtail (West Coast version of an Amberjack) with the fly rod. What stands out most about those early surfboard adventures is how stealth fishing from a surfboard could be. I had the ability to quietly paddle into to a school of feeding yellowtail and present my fly without spooking a single fish.
The only disadvantage to the surfboard was not being able to stand up to get a better vantage point on the fish. I thought how great it would be to have a board that would lend itself to standing instead of sitting.
The old Wind Surf Board
My next board was an old windsurf board. Wide bodies and stable, it was the perfect fishing platform for my kelp bed adventures. I could stand tall and see fish much better, however, it was not made for quick paddling, weighing close to 40 pounds, it was close to imposable to push it through the water at a good clip with my home made paddle made out of two plastic boat oars weird together and duct taped at the middle. I made some very memorable fishing journeys with my "old windsurfer" but soon I realized I need a better fishing craft.
The Kayak Years
I thought I had found the perfect fishing water craft in the Kayak. Like my boards, I could load the kayak onto my truck racks, I could launch it anywhere and unlike my windsurfer, it paddled like a dream! My kayak accompanied me up and down the West coast and deep into Baja California chasing everything from trout to roosterfish, marlin to tuna! There was no body of water or fish, big or small, I could not catch on my Kayak. What more could a fisherman want?
Well? How about a SUP?
I've been known to change my mind. On the issue of the perfect water craft? Well, I've changed my mind. Yep, I have found the perfect fishing watercraft after all these years. The fishing SUP is the new wave of the fishing water craft future. They are a far cry from what I use to fish off of in my "long board" and '"Windsurfer" days. Today's SUPs are ultra stable, well tracking and set up with the fisherman in mind. I can now head out on a fishing adventure with a Yeti cooler strapped to my board that acts as a seat, a rod rack that doubles as a stripping basket and more tie downs for dry/tackle bags then I would ever need. These wonderful crafts can take me into inches of water to chase tailing redfish or explore the near shore waters on the West Coast searching for yellowtail, white seas bass and Bonito.
Boy, water craft has come a long way in the past 30 years! I'm sure glad I've been along for the ride…I mean the paddle!
My Choice of SUP: Bote Ahab