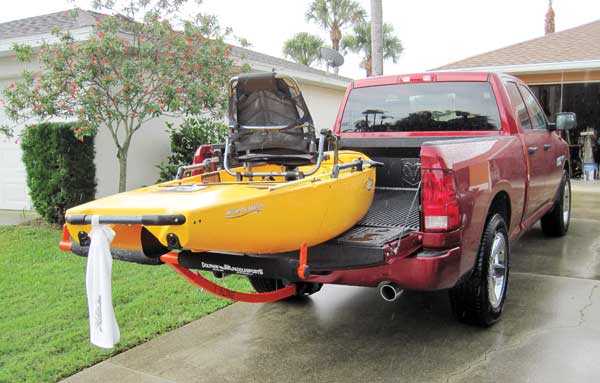 While performance on the water is the ultimate factor when choosing the perfect kayak, being able to get it to the launch and into the water without incident is almost as important.
How you transport your kayak has almost as much to do with the vehicle as it does the boat. You probably would not to try to put a Pro Angler on top of a Civic, transversely you probably do not need a trailer to haul a single average size fishing kayak.
Here are a couple of different options when determining the most efficient way to get your yak to the water.
The roof top carrier is the most common way that kayaks are moved from home to the launch. A sedan will require a roof rack with cross bars to be installed, while most SUV's come with some type of factory rack. Some SUV racks are quite serviceable as is, but many kayak fishing anglers choose to upgrade to some of the great racks available from Yakima or Thule. Once you decide on the racks, it is time to select the best seating to combine with your choice to provide the ultimate in ease and safety while transporting your boat. Your options can be as simple as a set of rack pads or as elaborate as the Thule Hullavator which actually lifts and secures your kayak to the roof. If you prefer to put your baby in a cradle, you will find quality options from Yakima, Thule and Malone in a wide variety of price points. Once the kayak is on the roof, you need to strap it down. Use both front and rear kayak straps (available at your local kayak dealer) avoid using bungees, as they can pop loose and cause a disaster. When traveling long distances, you may want to use additional tie-downs tethered to the front and rear undercarriage of your vehicle.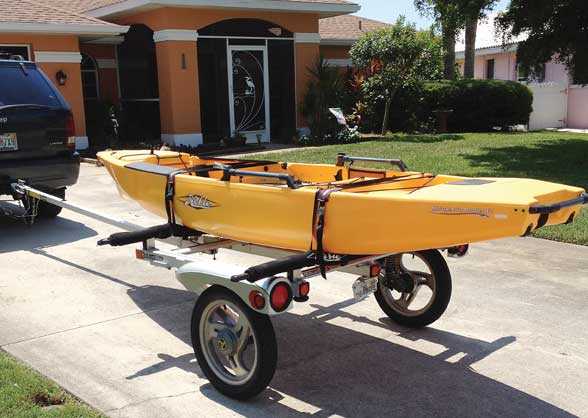 The Pickup is the vehicle of choice for many serious kayak anglers. Not only does it offer a multitude of ways to carry multiple boats, but it makes loading a lot easier, as you only have to pop the boat up to about waist level before pushing it into the desired position. A plastic bed liner makes this especially easy and prevents scrapping when combined with roto-molded kayaks. A bed extender is another key accessory to improve your Pickup as a kayak hauler. Personally, I like the T-Bone by Boondox. It is light weight aluminum and powder coated to prevent rust. The extender plugs right into the trailer hitch and is especially useful with the Hobie PA's, as well as, some of the larger Jackson kayaks. Attach a strap to the boat's front handle and the truck bed's front U-Bolt, secure the rear of the kayak to the T-Bone and you are good to go. Remember to tie a flag onto the rear of the kayak for safety and add a locking pin to protect your investment.
For anglers that need to consistently transport multiple kayaks of have one of the jumbo crossover boats, a trailer may be the way to go. There are some sweet models made by Trailex and Yakima, while most local trailer shops will fabricate custom trailers capable of towing an entire fleet. If you are mechanically inclined, unlike the author, you can repurpose an old Jet Ski trailer into a very nice kayak hauler.
There is no perfect way to transport your kayak. I hope this helps you chose an option that is best suited for you.
Pedal On!