Franchising Opportunities
Interested in publishing your area's Coastal Angler or The Angler Magazine? Franchise opportunities are available throughout the U.S. and abroad.
The first Coastal Angler Magazine was published in the spring of 1997 for Brevard County, Fla. The elevated standards and commitment to conservation and education promoted by Coastal Angler Magazine over the years have enabled the publication to be considered an industry leader.
The cornerstone of the Coastal Angler Magazine business philosophy is to bring to the public a well-designed, thoughtful publication that provides newsworthy and entertaining information pertinent to the marine and fishing industries, and to do so within the format of a free monthly magazine. Each issue of Coastal Angler Magazine is designed and formatted to be informative and enjoyable reading geared toward the outdoors enthusiast. Our readers have come to expect that our position on issues affecting the marine and fishing industries are properly founded on conservation and "higher ground" thinking while always striving to represent both sides of an issue.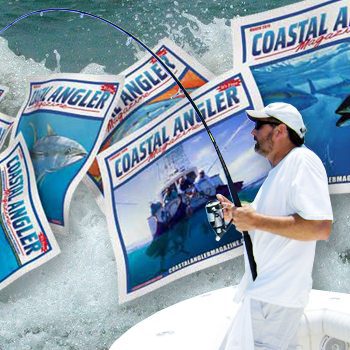 Our editorial staff will always make every effort to educate and entertain the reader. Many of the programs developed by Coastal Angler Magazine are geared to promote the use, not the abuse, of the marine environment and its oceans and waterways. Coastal Angler Magazine offers an excellent advertising vehicle for those seeking to reach the outdoors enthusiast. Advertisers have many choices on how to best promote their business. We believe that our competitive pricing, idea development, graphics and added value programs will help to maintain loyal advertisers. Together, with fair business dealings and reliable service, you, too, will be able to create long-lasting relationships with your customers.
We believe strongly in this philosophy and have added to it a new element: Franchising. The day-to-day operations of all Coastal Angler Magazine franchise locations consistently follow a tried and proven system that ensures coordinated actions of each member of the business team. Coastal Angler Magazine Franchising distinguishes itself as a team of co-publishers working both together and separately to publish free print and online magazines while partnering with local, statewide and national businesses in an effort to expand their profits and sustain their business both today and into the future.
Co-publishers benefit from a unique economies of scale model that expands profits and decreases expenses but also lends to the sharing of editorial content, business training and creative solutions.
As with any endeavor, the degree of success of each individual franchisee depends on the amount of effort and energy put into learning and executing each phase of the business. We believe that teamwork, cooperation, the sharing of ideas and hard work will ensure that Coastal Angler Magazineremains a continued success.
[styled_image w="400" h="300" lightbox="no" image="http://coastalanglermag.com/wp-content/uploads/2012/08/support.jpeg"]
We are committed to the success of our franchise partners. We have developed training and support systems that will help you quickly establish and grow your Coastal Angler Magazine franchise using our proven systems. We provide the tools and support to offer each franchise the potential to become successful and self-sufficient. It is our job to make sure each franchisee is successful and self-sufficient. Here are some of the many things we provide:
A turnkey operating system based on years of success in the publishing industry
Exclusive territories
The ability to operate from home or an outside office
Low startup and overhead expenses
Hands-on support and the first three months of graphic design done for you
Comprehensive franchise training conducted at our corporate office
Additional support in your territory once training is complete
Initial distribution set-up systems and audits
Daily operations and sales support from the corporate office
Advanced management training
Accounting and bookkeeping systems and support
Proven marketing programs
Corporate identity packages, which feature a trademark protected name and logo, along with corporate branding programs designed to quickly establish and promote Coastal Angler Magazine
Sales and marketing materials, contracts, selling venues and systems
Franchise locations actively promoted on the Coastal Angler Magazine corporate website with direct linking to each franchise location
Volume buying power for supplies, materials and print costs with established vendors based onCoastal Angler Magazine companywide pricing and standards
Monthly newsletter with marketing ideas, sales tools and updates on the other franchisees in the company
Monthly conference call or webinars
Annual franchise meeting to share ideas and build relationships with other franchisees

Turn your town into your territory today!
Franchise business opportunities can minimize risk and may give you the best possible chance to succeed.
[styled_image w="400" h="300" lightbox="no" image="http://coastalanglermag.com/wp-content/uploads/2012/08/why.jpeg"]
One out of every seven dollars spent by Americans is spent in a franchise business according to the International Franchise Association.
If you are seriously considering going into business for yourself, but may not be willing to do it alone, a franchise business opportunity may be a solid choice. When you buy a franchise business you'll get support and guidance. You won't need to reinvent the wheel – there will already be a system in place for you to follow.
That's the best feature about franchise business opportunities. The franchisor has already established a foundation to build upon. Starting any business venture is risky, but a franchise business provides a proven system for you to work with, which means you can avoid the critical mistakes often associated with start-ups. Often, you won't even have to have experience in the field you've chosen. If the franchise business has a strong system, you'll be ahead of the learning curve.
Not only do you eliminate start-up problems with franchise business opportunities, you can achieve things you may not be able to accomplish on your own. You'll have other franchisees to share ideas with, brand awareness already in place, on-going support and training. That's what a franchise business opportunity is all about. You'll be in business for yourself, not by yourself.
The major advantage of owning a franchise business is that you spend 80% of your time developing the business, whereas an independent owner spends that same 80% of time inventing a system.

Small Business Franchise Opportunities 
Winning With Small Business Franchises
There is life after cubicle confinement, boardroom boredom and corporate downsizing. So go ahead, fire your boss. Take over the helm as a small business franchise owner.

Small business franchise opportunities abound, which makes it hard for someone looking to start their own business to choose what's best. If you have little or no experience running a business, a small business franchise opportunity may be able to help compensate for a lack of business knowledge or expertise. You'll be allowed to use the franchise's trademark. That's invaluable in starting a small business franchise. Customers will know who you are as soon as you open your doors. And they'll be more willing to use a brand they trust. You'll also get a proven operating system to follow. You won't have to worry about the pitfalls usually associated with start-ups. You'll have a 'how-to' guide at your fingertips.
 
Why A Small Business Franchise?
Almost all franchises encompass small business opportunities. Each franchisee owns a small business. Combine hundreds, or even thousands, of franchisees together and you get a force to be reckoned with. The single franchisee benefits from the franchisor's brand recognition, buying power, and success. It may be called a small business franchise opportunity, but it adds up to big business.
 
Other Small Business Franchise Benefits
TRAINING: Franchisors provide extensive training to their new franchisees. And the training doesn't only include information about how the operating system works. General business information you'll need to know is included too.

SUPPORT: Small business franchises care about their franchisees. After all, franchisors are only as successful as their franchisees. You'll receive corporate support throughout your franchise experience. Also, and sometimes more importantly, you'll have other franchisees to bounce ideas off and with whom to discuss challenges.
DISCLAIMER TO POTENTIAL FRANCHISEES:
Offers of a franchise can only be made through the delivery of a Franchise Disclosure Document. Please contact Coastal Angler Magazine Franchising Inc for further details on offers and documents required by the law.