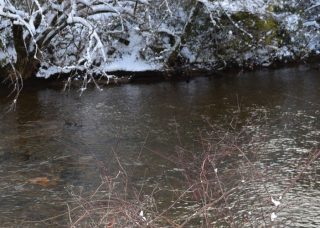 By J.E.B. Hall
Winter is a favorite time of year for many Asheville area trout anglers.  With the colder temperatures that Western North Carolina is known to experience in January, the crowds disappear from trout streams, and big fish come out of hiding. While some fish can be taken on conventional fishing gear, winter is where fly fishing really shines.
The tiny insects that the fish feed on during colder months are best imitated, and presented, with a fly rod. Most fly selections will feature hook sizes ranging from size 18 on the bigger end, all the way down to size 26 on the small side. That size range does change in periods of high water following heavy rains.  During these events, big stonefly imitations and streamer patterns prove to be more effective in the increased flow.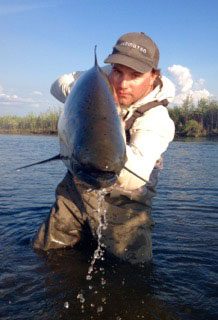 For the dry fly purist, winter offers some of the most consistent hatches of the year. Small winter stoneflies are present on most days, as are midges.  Warmer days will see micro sized caddis flies. Light rain and snow typically mean that Blue Wing Olive mayflies will be on the menu. Like any winter activity, weather can make, or break an outing.  Anglers should pick their fishing days wisely, looking for warmer, high humidity days, as opposed to the blustery, blue bird variety.
J.E.B. Hall is a full time fishing guide for Davidson River Outfitters in Pisgah Forest, NC.  He is the author of The Southern Appalachian Fly Guide, and has contributed to a variety of magazines and blogs, including Southern Culture on the Fly and Fish Alaska Magazine.