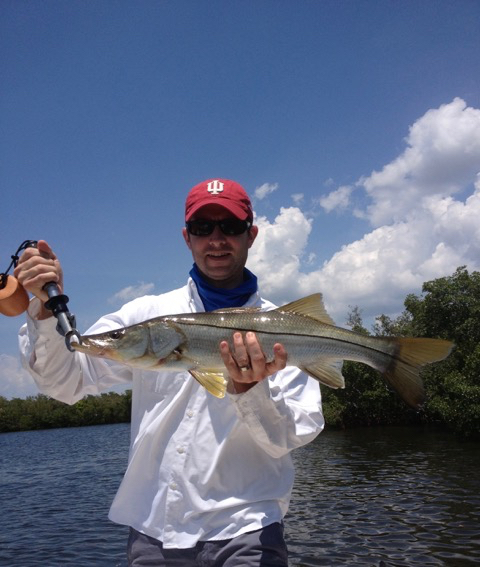 This month begins what's considered the beginning of some of our best fishing. Springtime is always a great time to be on the water as the water temperature is warming but the air temperature's still comfortable. It's transition time as some of our favorite game fish are on the move and are looking to eat after the slim pickings of winter. With this winter producing moderate temperatures, it's really not surprising that what we like to call "spring fishing" began a bit early and the patterns that I like to start working around April have been in full gear since last month.
I'll typically make my way out of backcountry creek systems and start to work more open water. I'll stick close to outside shorelines but it's not unusual to find both redfish and snook holding off the shoreline. On more than one occasion, I've found myself poling tight to the mangroves while spotting fish moving off from outside the boat. Moreover, these were always the larger fish.
This is the case throughout the bays and sounds that border Charlotte Harbor. Now, I like working the east side and spend as much time as I can from Pirate Harbor down to Matlacha. There is plenty of shoreline and lots of deep cuts with good current.  The Wall Wall should also fish well and I've had lots of good days inside Turtle Bay. Keep in mind, it will probably remain windy this month and I realize it's more comfortable fishing a lee shoreline. However, I've had some of my best days working the windy shoreline as the wind and waves were pushing bait up onto the shoreline and snook, redfish, and trout all seemed to be staged up and waiting.
If you find yourself on the East or West Wall and are looking for a change of pace, don't hesitate to drop off the bar and spend some time casting for cobia. Pompano are still around and the hard bottom just off Cape Haze is one of the best spots around. In the same area, small black tip sharks can be found all along the entire bar that runs from Cape Haze Point to Cayo Pelau at the base of Gasparilla Sound.
Spanish mackerel should be scattered all over the harbor. The easiest way to find one of these schools is to find the birds. Lastly, keep an eye out for tarpon. I wouldn't be surprised to see them in the upper harbor around the ladyfish and spanish mackerel.
Until next month, good tides
Captain Michael Manis is a U.S.G.C. Licensed captain and has been teaching the sport of fly and light tackle angling since 2002. He lives in Punta Gorda, Florida and can be reached at www.puntagordaflycharters.com.