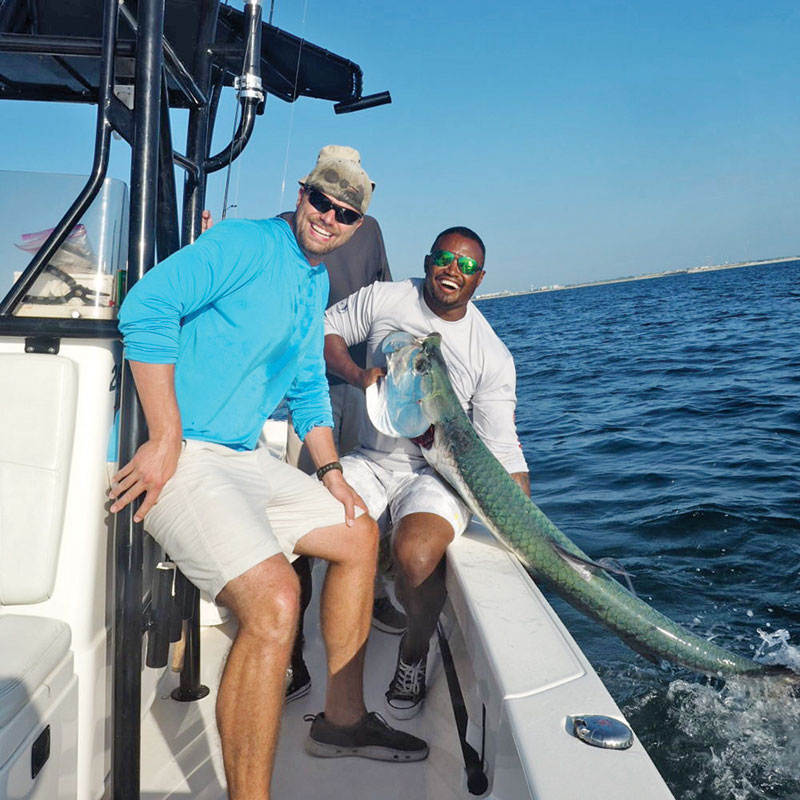 The Dog Days of Summer are upon us! For the last month or so it's been very hot and will remain that way through August. The inshore side of things will be much tougher during these months, but if you put some work in, you can have some great fishing trips. Switch things up and fish deeper water working docks in the bayous and sounds. Fishing different times, like early in the morning, late afternoons, and at night, are the times you'll want to concentrate on. The most crucial part of catching fish inshore right now is bait. First thing you'll need is a good cast net and a good live well. With the warmer water it's tougher to keep bait alive, so have a good live well system with plenty of water flow to oxygenate the water. You can find bait in bayous and around bridges mostly; just look for them schooling up at the top of the water. Once you get your bait, it's time to go fishing! August has always been a good redfish month and you don't usually have to go very far from the bait schools you find. Many big redfish will be mixed in with the bait. If you find an area where there's a bunch of menhaden schools, start right there by working a few of the schools of bait with artificial lures including soft and hard plastics. Fish them deeper, underneath the schools. Fish will often be schooled up underneath the bait and this is the best way to find them. Once you find them, try to stick with that particular bait school. If you aren't having any luck doing that, ease off into about 5- to 8-ft of water off of a grass bed or shoal and post up. Once you get ready, pitch a few free line menhaden back behind the boat. While you're doing this, use a net or chum bat to throw out handfuls of live menhaden. Doing this will attract all kinds of fish. More than likely you'll have to pick through the catfish, bluefish, and ladyfish, but you'll catch plenty of trout and redfish as well. Once the sun comes up a little more you might see the bite slow. The best thing to do then is run to nearby bridges or deep water docks and work those with soft plastics. Use a heavy headed jig so you can work the bottom, too. If you do start getting a few bites around the docks or bridge pilings doing this, you can setup again and start chumming the water just like you were doing before on the grass beds. You'll be surprised at what you can get started. Again, follow the bait because if you find the bait, you'll find the fish.
August is always a terrific month for nearshore/offshore fishing. This time of year we have all kinds of bait stacked in on the beach, which brings a lot of the fish in closer. King mackerel should really start to kick off good this month. Once again, bait is very important when fishing. Start off the morning by catching as many cigar minnows and herring as possible using a Sabiki rig, or you can always get a scoop from one of the bait guys out front. All the inshore wrecks less than 100ft of water will hold plenty of mackerel. Some of the best fishing is right out front within a mile of the pass. The large bait schools gathered on top of the water will have plenty of kings around them. Pitch a couple of live baits out and slow troll them around the schools and you'll get some bites. Don't be scared to run to different places to find them. They've been a little sporadic at times this year, so move around to find the bite. Once you find the bite, stick with it.
August also brings back amberjack. Amberjack are one of the best fighting fish in the gulf, and are great to eat as well. The right bait is very important with these fish, too. There's nothing a jack likes more than a live hardtail or blue runner. You can catch these baits just like you catch cigs and herring out front. Fish the lip and buoys with heavier Sabiki rigs and you should be able to catch your share of them. Even if you can only pick a dozen or so of the hardtails, spend the time to do it, but big herring and cigs will get you bites as well. You might have to run a little further offshore (90- to 200- feet) to catch the bigger jacks. Fish the big steel wrecks; anything big and steel usually holds plenty of jacks. Use heavier tackle around the wrecks because it's much easier to get hung up around that type of structure. Try using a heavy lead sinker (10- to 14-oz) followed with a long leader (approx. 6 feet) of 80- to 100-lb test, with a 10/0 to 12/0 circle hook. Fish the wrecks higher up in the water, usually about half way down, depending on how deep the water is. Most jacks will hang out up high in the water. Here's an extra tip: if you catch a bluefish or two while bait fishing, keep them; you'll get one hell of a bite dropping him down to a jack!
August is one of my favorite fishing months for offshore fishing including marlin, dolphin, wahoo, and tuna. Whether the water is blue or not, fishing can still be really good this month so don't let that slow you down. You don't have to have a big Sportfisher to catch these fish either. Typically, this time of year, we have a lot of bait push further inshore around the Nipple and into water as shallow as 350 ft. When this happens, things really get cranked up, especially with the white marlin bite. When this happens your fathometer can be your best friend. Pick a starting point and start fishing. While you're fishing keep a sharp eye on your sounder and any large schools of bait coming off the bottom and mark it. Fish multiple lines with rigged ballyhoo, mullet, and bonito strips. Use light leader, 150-200lb test with a smaller hook which most of the time will get you more hookups. If you start getting cut off by wahoo, you can always swap over to wire leaders. Work these schools of bait for a good while; if you don't get any bites, move on, but keep that bait marked, you can always come back to it. Also look for big schools of bonito or blackfin tuna. These can have billfish stacked up around them too.
CAPT. PETER WRIGHT, JR.
The Ships Chandler
646 E. Hwy 98
Destin, FL 32541
850-837-9306
www.theshipschandler.com