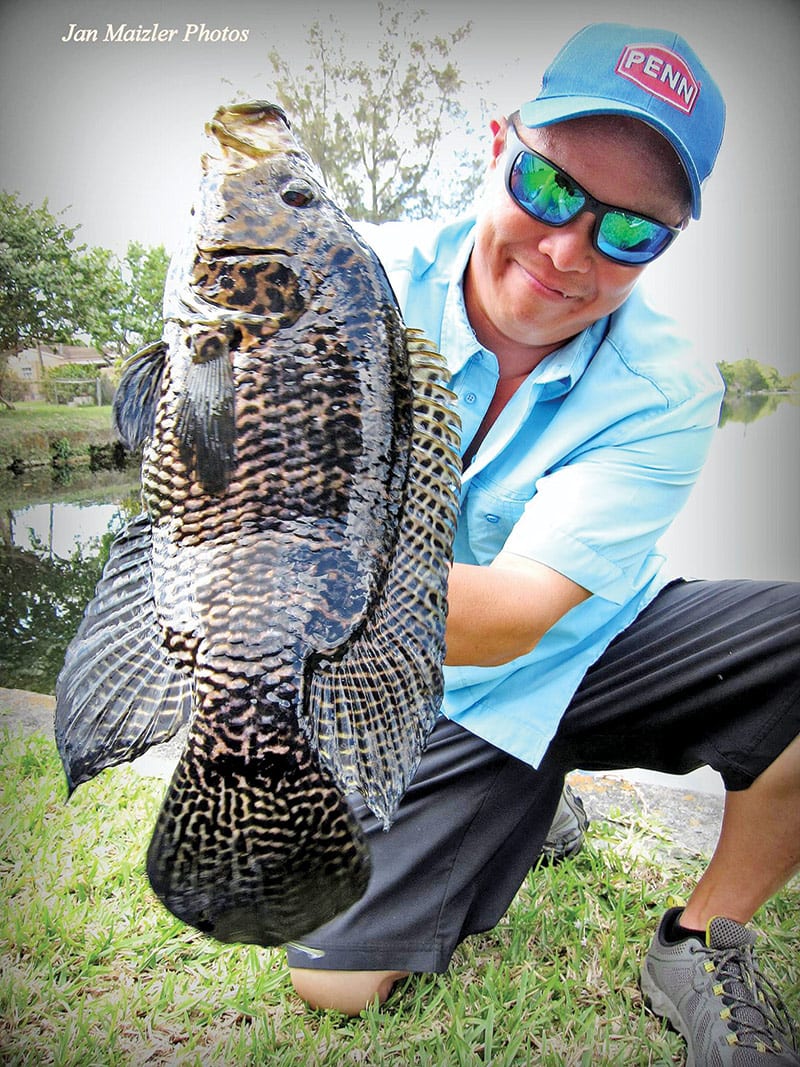 As children all across Florida wait for jolly old Saint Nick and his wrapped gifts from the North Pole, December can be a tricky time of year. Big kids await mother nature's forecast, patiently waiting to plan the next fishing trip or two as the holidays often bring travel to the sunny state. Despite the weather conditions with winds usually howling from the north or east and often keeping vessels at bay or on dry land, freshwater fishing can be done in almost any condition and you don't even need a boat. My land based guide service is going on seven years. It was created out of public demand through several social media sites and has been a pleasure not only learning the business, but the fishery as well.
Observation is one of my most powerful tools, especially in the ever changing conditions of South Florida. A good pair of polarized glasses are essential to successful sight fishing. They allow me as the guide to first see if peacocks or other exotic species are in a cycle of spawn. Targeting them while spawning and at their most fragile state, can greatly reduce fry survival. During spawn, they are not much of a challenge and they tend to fight much less due to higher stress levels. Instead, look for peacocks that are swimming in schools and try to take your pick at the largest or most aggressive, but don't take too much time deciding as the fish will move on quickly. If a pair of peacocks are set on protecting or inhabiting any small area, odds are they are nesting or in a cycle of spawn and it's best to let them be. A good pair of glasses with the right lenses will allow you to see this and you'll pick up a vast array of information along the way. After careful inspection, you can see the bed of eggs. They are normally off white to a light golden color, often found on something flat like PVC pipes, bottles, cans, limestone ledges or flat rocks. This attention to detail is a must for responsible angling today to ensure a great fishery, if not better for tomorrow.
Flying Fisherman sunglasses are the brand I use. The company is family operated and located in the upper Keys near Islamorada. They offer a wide range of glasses for the entire family and are available with prescription lenses and more affordable than some of the leading brands. My favorite are the polycarbonate frames with RhinoLenses and AcuTint lens coloring. At the end of the day, I'm just a regular fisherman trying to share my world with others. With the saved money, I can purchase two or three pairs in various shades or more of my favorite fishing tackle and gear.
Please visit my website for more information on how you can book your exotic Florida fishing trip and see Miami through my eyes. Be sure to follow along on social media where you can post questions, read my posts, view fishing pictures and much more.
Hai Truong
(786) 405-4146
www.HaiTruongFishing.com
hai@haitruongfishing.com