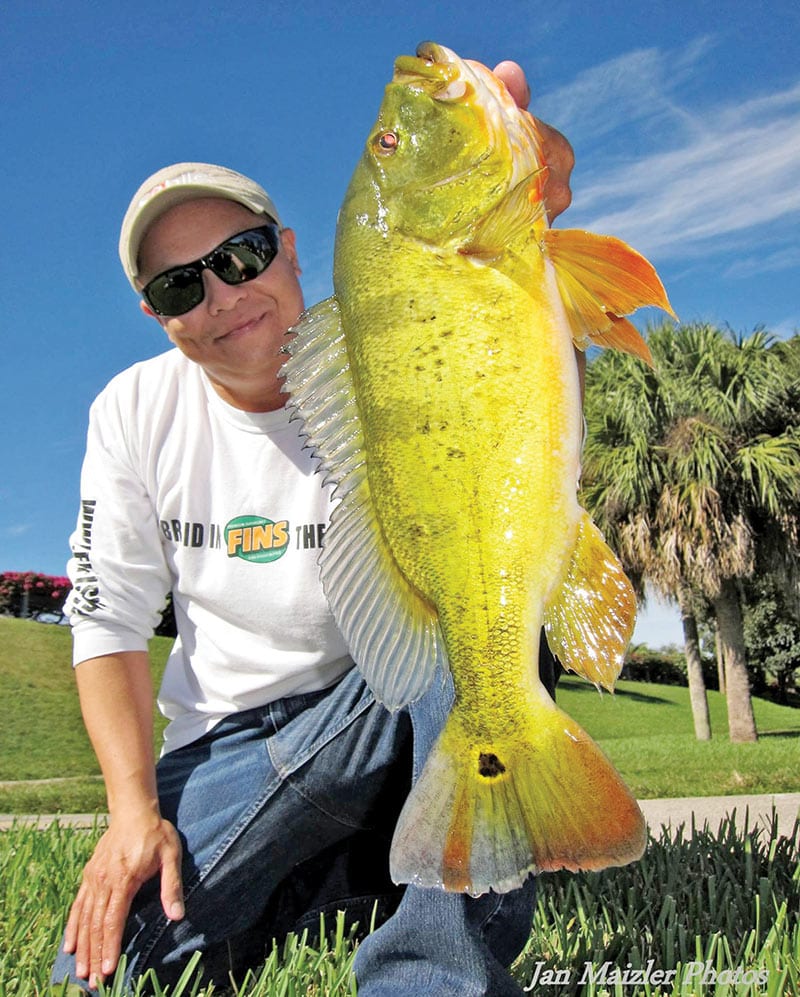 Wintertime in South Florida truly becomes a melting pot of people from all over. Most flock here for our tropical conditions and very mild winters. Others know all too well, the rich history of both our fresh and saltwater fishery and the records that follow in the fishing capital of the world. Florida has something to chase for everyone, but the peacock bass truly stands out this time of year for me. They're typically not in their usual aggressive and tenacious fashion but more lethargic, especially in duration of the cold fronts when water temperatures drop below ideal conditions, but the added challenges make it more fun.
Cooler temperatures separates the experienced anglers that usually do not target them on beds during warmer parts of the year, especially with eggs or hatched fry as it greatly reduces the fry survival. Instead, fishermen should look for the subtle change ups often necessary to find and catch fish. This time of year is no different. One of the keys is to look deeper, in warmer pockets of water. Peacocks will most likely be present in areas you have seen or caught in the past, just not at the surface or bank's edge but just several feet away from the bank and often found a few feet deeper.
Peacocks have been targeted and caught during past cold fronts for an article review of my guide service with Jan Maizler. Maizler wanted to see how the cold would affect the fishing, especially in duration. That year, we headed out in forty-three degrees, sustaining over a few weeks and were still able to catch and trap local live baits that were then used to land three of four large peacocks before noon. Despite their tropical origins and dropping temperatures, they still have to eat. If using artificial lures or flies, working your presentation slower will be key. Fast twitches or movements of the bait at the right time is also crucial but don't over work it.
Another key during the cooler times and often during optimal conditions as well, is body language. With near gin clear waters in South Florida, sight fishing both fresh and saltwater is nothing short of amazing. The ability to see the take, especially on artificial baits is a show in itself. Working the bait off positive physical behavior and instantly stopping or completely changing your presentation on negative behavior can be the difference of getting refused or coming tight. Tapping into their predatory reactive strikes are much more challenging when lethargic. This is the case for most predatory species as they weigh the risk versus reward, burn energy or conserve for an easier meal is the question.
During the smaller cold fronts or cold snaps, peacock activity will vary with the amount of clear sun and any rainfall will affect the action. Wind is always a factor when sight fishing. In general, look for the best gaps of sun for the day you fish. Less wind allows better visibility and never stop casting.
Feel free to visit my website, follow my social links to learn more or book a trip. Learn the techniques to better your game and pass it to the next generation responsibly, while enjoying the exotic freshwater scenery in beautiful South Florida.
Hai Truong
(786) 405-4146
www.HaiTruongFishing.com
hai@haitruongfishing.com