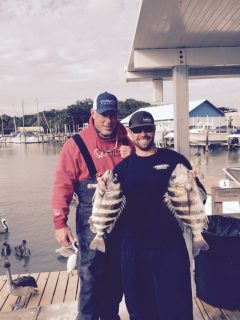 February is the Prime Sheepshead Month on Florida's West Coast
February is the month of the Sheepshead for me and my customers, windy conditions this month make these structure dwellers a perfect target along the docks of the intercostal waterways, bridges, markers, rock piles and artificial near shore reefs and wrecks.
Sheepshead can be easily identified by their black vertical bands which stand out against a dull white, gray or yellowish background. They're common from less than a pound to four pounds, and are fairly plentiful from five to seven pounds with the occasional 10 pound monster being caught from an offshore wreck or reef. The Florida state record is 15 pounds 2 ounces.
They are one of the best table fish that swim in our waters thanks in great part to their shellfish diet. Normally they're not an aggressive striker, but ounce hooked they put up a fight as good as any inshore species.
Light tackle works best, but the rod tip should be firm as they have a tough mouth that can make it hard to get a quality hook set. The best bait is live shrimp, but dead shrimp and fiddler crabs will both get the job done. Small pieces of oysters and clams will work as well.
My favorite tactic is to put a small to medium live shrimp tail hooked on a quarter ounce jighead and flip it up under a dock to let sit. Lead colored or unpainted jigheads seem to work best. Sometimes try a knocker rig, especially on some of the deeper structures such as markers, bridges and nearshore wrecks and reefs
The live shrimp will do the work for you, and the challenge of pulling these feisty creatures from under the docks is quite exciting. It's not uncommon for us to have 20 to 30 fish days using this method, and we normally come away with a few nice trout and some redfish as well.
Sheepshead can fill your February with quality fish stories and some good eats for you and your family.
Catch Capt. Michael Anderson on Saturdays for Reel Animals on 970WFLA from 6:00 a.m. to 8:00 a.m., and Sunday mornings on AM620 for the TA Mahoney Co. Reel Animals Radio Show.