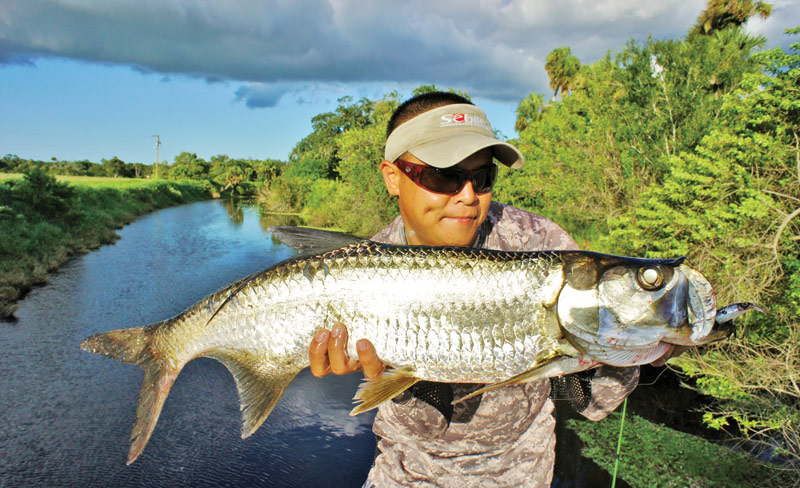 South Florida has a seemingly endless selection of freshwater exotic fish and they range from bait sized to tank busters. Whether you're a technical bait caster, traditional spinner or fly enthusiast, there's always something to chase despite mother nature's mood swings. Various platforms can be a great way to keep things challenging and learn new tactics or techniques to catch fish. Sometimes, it's simply what is available, but keeping a wider selection in your arsenal is always a plus as you never know when or where it may come in handy.
I mostly reserve my bait casting for big top water plugs, hollow body frogs, swimbaits and crankbaits, on seven foot plus rods with heavy action. I have been using 13fishing Concept A and A3 reels in a left hand crank and I really like them. I spool them with FINS XS 40 to 50 lb braid which is great for thick vegetation. With modern technology, bait casting has become fun again. The technical side has its attributes, but success never comes without putting in the time.
Small species can be targeted on ultra lite spin, on four to five foot rods, ranging from 2 to 8 lb main line class. Use monofilament, fluorocarbon or braided super lines in similar tests. Drop down to micro lite outfits for added challenge, especially when targeting larger fish. I typically use lite to medium lite, seven foot rods with up to 17 lb line rating. I mostly use lite carbon fiber blanks with American Tackle hardware, strapped with the smallest saltwater grade reels for both fresh and lite saltwater. PENN reels are bullet proof and provide excellent value for the money. They have been offering much lighter reels in recent years. I spool up with 5 to 10 lb FINS braid in either 40G or XS, depending on my target species and environment. I always use a four to five foot, 100% fluorocarbon leader. I use it for a bit of stretch, but mostly for stealth in the gin clear waters. My favorite lures to throw are true suspending twitch baits for their erratic action, often coming tight on the stall. I use a lot of Sebile Innovative Fishing lures; Pivot Frog, Stick Shadd, Magic Swimmers, Flat Shad and several others not available in the US. Rapala are great too. I like the X-Rap XR-08. I try to choose earthy colors, contrasted by light and dark shades. However, accurate casting, proper presentation and retrieval speed are more important than color to me.
Four to eight weight fly outfits with the appropriate line class can be used for added stealth, especially with finicky eaters like freshwater snook or tarpon. Use longer leader lengths for spooky fish, especially in ultra clear waters. I usually don't go longer than my fly rod. Soft rolls of the fly and accurate shots go a long way and combined with the right strip rate can be lethal. Summer is great time in South Florida for fly fishing, emulating the much smaller baits. I really like Enrico Puglisi flies for this time of year. The micro minnow is one of my favorite for both saltwater flats and freshwater. Larger flies like his pilchard does the trick when needed. Bob Clouser flies remain classic and can be used year round. Simply adjust the size of the body and length of the tail accordingly.
Should you like to explore the unique exotic fishery that we have here in South Florida, please take a moment to check out my website or follow me on social media. I'm available to guide you to some of the most exciting fishing that South Florida has to offer.
Hai Truong
(786) 405-4146
www.HaiTruongFishing.com
hai@haitruongfishing.com