Egging for Fall Rainbows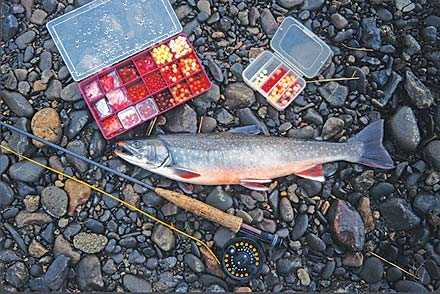 By: Christopher Batin
Late August and September offer some of the best fishing of the year. This is because trout, char and grayling feed on salmon eggs to the point of wild abandon. The first-time visiting angler to Alaska is shocked beyond belief at the sight.
Schools of char numbering in the hundreds or more and grayling mixed in with larger trout are stacked in deepwater pools downstream from actively spawning salmon that are digging their redds and actively dispersing eggs. Many of these eggs float downstream, which triggers a feeding frenzy among the fish. Toss an egg pattern or small redhead crappie jig into the current, and you'll produce hit after hit, time and time again.
I remember once when I just couldn't stop catching fish and decided if I ever got to 89, the year it was, I'd stop fishing. I was done before noon; otherwise I would have fished myself into oblivion. Some things are best sampled with restraint, else one could become spoiled to the otherwise fabulous but normal 10-fish days of a bass or striper fishery.
You'll find fish feeding on salmon eggs in most streams and rivers on the road system, which includes the Kenai River and the smaller streams of the Susitna and Talkeetna watersheds. I recall fishing with Mahay's Riverboat Service on drop-offs to remote streams where trout would suck in each egg pattern I'd drift down through a seam.
The reason I like day trips for fall trout is because the action is often non-stop, and one needs ample time to recover. The $65 drop-off charter offered by Mahay's is a bargain. I can't buy gas and run a boat upriver for this amount. It's remote Alaska, and the farther upstream you hike, the more secluded you become.
You will also experience bears, so anglers need to know how to handle themselves in bear country. I usually prefer walking to the middle and casting to both sides as I am wading downstream. I am armed with pepper spray on my side and whistle in my vest pocket. I can see the bears far in advance and prepare, and they can see me. Busting through brush is asking for trouble.
Day trips on the Kenai River also offer good action, especially for those larger trout and char. In the interior, I've enjoyed good small stream fishing with Reed Morisky, who offers a grayling camp where anglers can hook and release 50 grayling a day when they are feeding on salmon eggs from spawning coho and chum salmon.
The most popular of the egg patterns is the Glo-Bug, with beads a close second. Other patterns like soft plastic eggs are also good, as is the egg-sucking leech. Smaller roe is best duplicated by Iliamna Pinkies, beads or hot-glue patterns.
Unfortunately, during salmon spawning, most trout will become so gorged on eggs that fishing turns poor for larger fish. Thus, it's always best to start fishing eggs right after the first salmon are starting to spawn. Continue fishing these patterns until carcasses start drifting downstream.
Many of the spawning areas in rivers and lakes are only two to three feet deep. A floating line with a mini-leadhead looped into place, a piece of microshot or a sinking leader will present the pattern without getting the fly line near the fish and spooking them. Spin anglers should use ultralight or light-action rods with a limber tip, with drift beads or mini-Spin-N-Glos or leadhead jigs working best.
Chris Batin is editor and publisher of The Alaska Angler and author of numerous books on Alaska fishing, hunting and the outdoors, available at www.AlaskaAngler.com. For a special $13 discount offer to Coastal Angler readers, he will autograph copies of his best-selling book, "Fishing Alaska on Dollars a Day" for $20 each by calling (206) 999-3474. He invites reader comments at ChrisBatin@AlaskaAngler.com.
The following two tabs change content below.
Fishing Magazine, Coastal Angler & The Angler Magazine is your leading source for freshwater fishing and saltwater fishing videos, fishing photos, saltwater fishing.
Latest posts by Coastal Angler Magazine (see all)
Comments