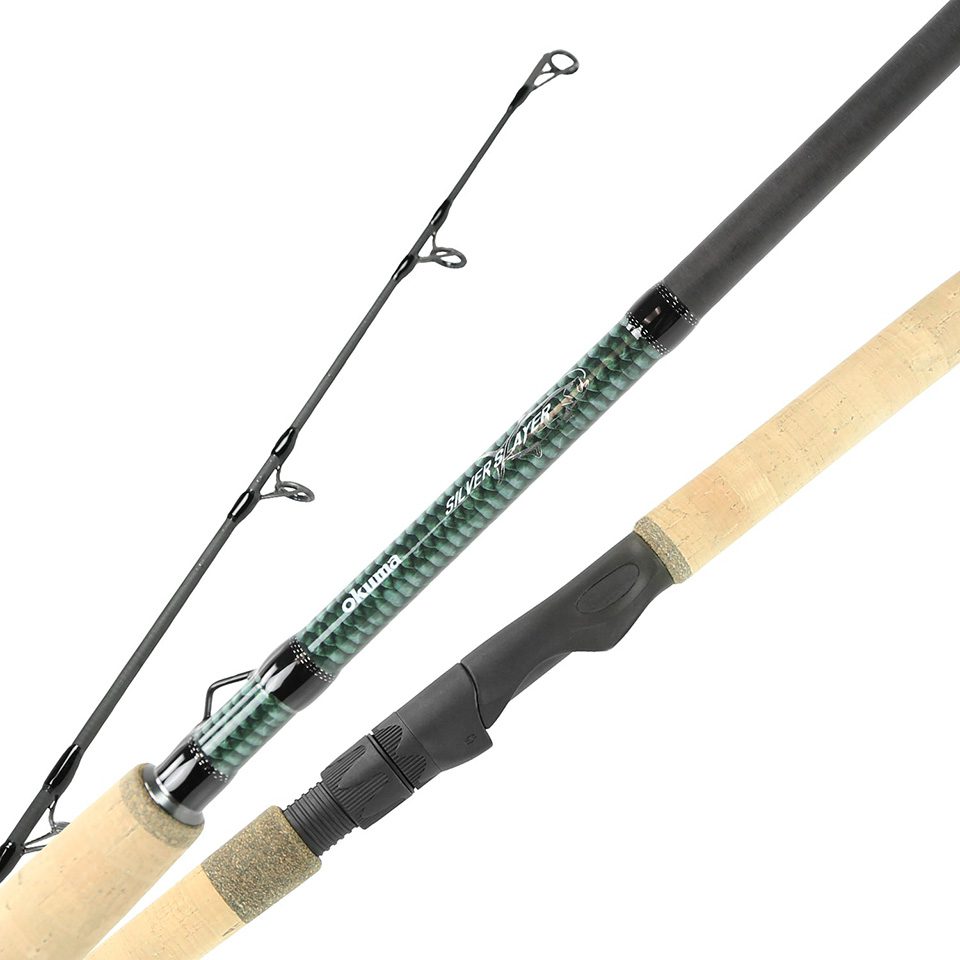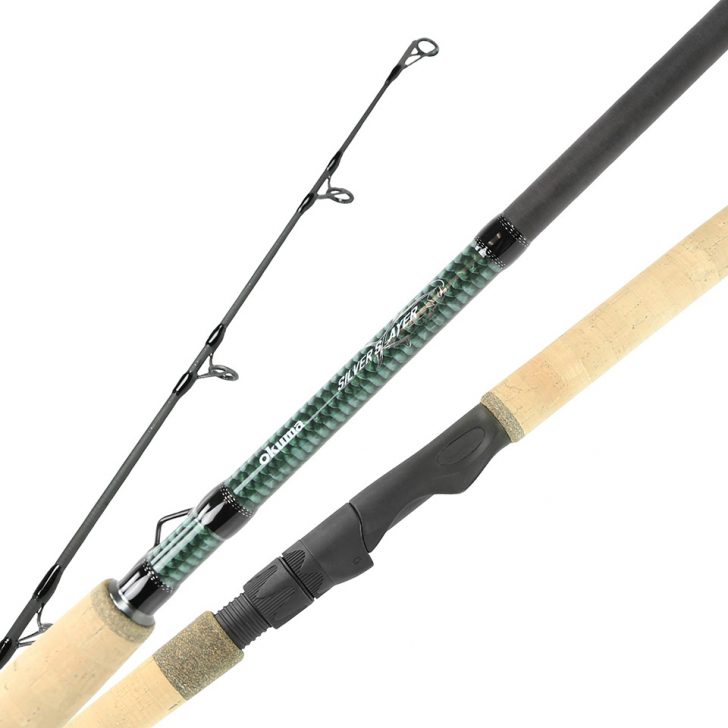 SILVER SLAYER TARPON RODS
The Silver Slayer Tarpon Rods are built with powerful and responsive 24 – ton carbon rod blanks that feature Okuma's UFRII rod tip technology. This process blends unidirectional fiber over 24 – ton carbon in the extended tip section of the rod to increase lifting strength and power by as much as 400%. This technology provides for the ultimate in strength without sacrificing sensitivity so that you can feel even the lightest of bites down deep.
The Silver Slayer Tarpon Rods consist of four total rods that are all spinning models. The four models consist of a 7 – foot Heavy, 7 – foot X – Heavy, 7 – foot, 9 – inch Heavy, and a 7 – foot, 9 – inch X – Heavy. These rods have the backbone to really work your fish to the boat and feature a tapered cork fore and full rear grip design with a rubber cork inlay. With the brute strength that Tarpon possesses, the Silver Slayer rods have components to match.
Each rod is designed with Fuji K – Concept deep press frames that help reduce tangles and line twists after all-day casting. Each of these guides holds firmly in place a Fuji FazLite guide insert for silky-smooth performance. The rods also have a SeaGuide double-locking Alien reel seat that keeps your spinning reels firmly and comfortably in place. And while fighting your fish, the Silver Slayer rods all come standard with a premium Fuji gimbal for support.
MSRP$179.99 – $189.99
Specifically, designed rod blanks for Tarpon fishing
Powerful and responsive 24-ton carbon rod blanks
UFRII: Ultimate Flex Reinforced rod tip technology
Fuji K-Concept deep press frames help reduce tangles
Silky smooth performance from Fuji FazLite guide inserts
SeaGuide double locking Alien reel seat
Tapered cork fore and rear grip with rubber cork inlay
Premium Fuji gimbal for support fighting big fish
Silver Slayer rods are backed by a Limited Lifetime warranty
Photos for illustration purposes only. Actual prize may vary from what is shown. By entering this contest gives advertiser the right to contact you via email. Contest runs 8/1 – 8/31. Winners will be announced on Facebook. Good luck!