Florida Keys: One of the Premier Angling Destinations in the Country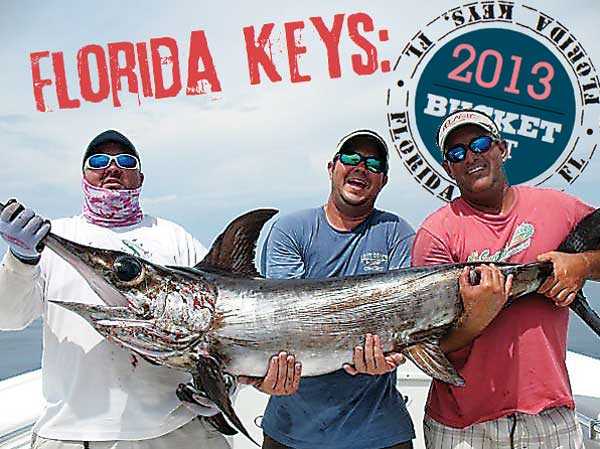 By Capt. Aaron Sutcliffe
While most people think of the Florida Keys as an angling destination, a few things come to mind first and foremost. Offshore fishing for mahi mahi, reef fishing for snapper and grouper, and flats fishing for bonefish and permit are arguably the big three that come at the top of the list. In reality, the angling opportunities that exist in the southernmost island chain are far more bountiful than even seasoned fisherman realize. For example, tarpon fishing in the keys is a year round affair. Even in the coldest months captains that play the right cards can score the silver king. The same time frame applies to shark fishing enthusiasts. From sight fishing the shallows to battling it out with deep-water leviathans, there is a 365-day a year fishery for the toothy brutes so many people love to tangle with. And then there is perhaps my favorite adventure, daytime swordfishing. This highly specialized fishery is almost like fishing on the moon. Daytime swordfishing uses high tech gear and fined tuned rigs to deliver a bait into the deep abyss in hopes of connecting to a powerful prehistoric predator that will test the mettle of even the saltiest of fishers. These three fisheries are the focus of this article, but let's add to the list a hot secret snook fishery, smoking Spanish mackerel runs, world-class sailfishing season, an amazing cobia run and so much more. All this adds up to cement the Florida Keys as one of the premier angling destinations in the continental United States.
Tarpon—the silver king! Megalops atlanticus! Considered to be the most sought after shallow water gamefish in the world, renowned for its brute strength and explosive aerial displays and many times one of the most impossible of fish to hook and land. A massive migration of these monsters pours through the entire keys chain between Mother's day and the 4th of July. This time frame is the best time to connect with what is considered a giant tarpon, a fish that weighs over 100 pounds. Indeed one of the greatest thrills for many others and myself is sight fishing for tarpon. Targeting traveling or laid up schools of these fish in the shallows of the Keys can get your heart pounding. Especially when one or more tarpon pull off the school to pursue an angler's well placed fly or artificial lure. Many times the fish will track the offering very near to the boat and inhale it mere feet from the rodtip. I am surprised there are not many tarpon related heart attacks for that reason. Another tried and true method is anchoring near a productive bridge and lining out a large frisky mullet. Some of these baitfish are over a foot long, and a hungry tarpon will chase the frantic mullet until demolishing it with a vicious and startling surface strike. Did I mention that tarpon fishing is exciting?
Another exciting fishery exists in chasing sharks. Here in the Keys you can catch lemon, bull, blacktip and bonnethead with a near 100% success ratio, 365 days a year. The most simplistic tactic is putting out a small-to-medium live bait like mullet or blue runner on a short wire leader and let the bait do the work. Good places to try are bridges, channels, or near shallow banks. Getting a little more specialized, they can be sight fished on fly tackle very easily. I like to hang a few filleted fish carcasses over the side of the boat and let the sharks come to me. Then it is just a matter of getting the excited shark to eat the fly. This is sight fishing, as you get to see the animal up close and literally watch it eat right next to the boat. Some of these sharks can be over eight feet long and over 400 pounds. Which leads some anglers to say, "Should I hook that one up or wait for a smaller one?" I have never said no.
The swordfish is a gamefish that fights so valiantly its last name is gladius. During daylight hours it cruises the seafloor 1700-2200 feet from the surface, a cold dark unforgiving place where it is the apex predator. So awesome is this beast that fisherman will spend $5,000 dollars on a high tech motorized reel to fish for them. And then spend $2,000 on line, leader, hooks, and bait. And then fight one for five hours before finally landing their prize. For my money, this is all worthwhile, because the journey is an adventure and the destination is amazing. The sight of a 300-pound sea beast, lit up with impossibly neon cobalt, thrashing wildly on the surface of the sea is a sight to behold. I have many such images floating around inside my head right now, and I am itching to take more mental photographs.
All these things add up to make the Florida Keys an amazing destination for adventurous anglers. So many possibilities in one geographical area can sometimes seem like too much going on. The best thing to do is to get out and try them all!
You can reach Capt. Aaron Sutcliffe in Marathon, FL at 305-900-0809.
The following two tabs change content below.
Fishing Magazine, Coastal Angler & The Angler Magazine is your leading source for freshwater fishing and saltwater fishing videos, fishing photos, saltwater fishing.
Latest posts by Coastal Angler Magazine (see all)
Comments