April brings some of the best fishing of the year and you should be prepared for numerous species. Dolphin will become more plentiful, but will be moving farther offshore. Kingfish should start invading the reef in solid numbers with some bigger fish mixed in. Bigger blackfin tuna will also start to show up. Free line a live pilchard or threadfin on a 3/0 or 4/0 circle hook with as light a leader as you are comfortable with. Don't be afraid to send your offering way out there as the big blackfins are super spooky. It's also a good idea to have a rod rigged and ready with a cobia jig as they will often swim right up to the boat to crash the party.
Just a few weeks ago, we received a letter from a concerned resident of Pompano Beach regarding the city's fishing pier. The letter claimed that the city chose not to put the construction of the new pier out for competitive bids and instead chose to go with a Construction Manager at Risk bid that may result in a waste of nearly five million taxpayer dollars. After a bit of research, we discovered that the letter was of merit and we will be looking into the matter further. Stay tuned for an update.
We welcome your questions and comments and encourage you to share them with us. Please take a minute to like us on facebook.
Keep reelin,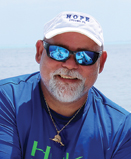 GENE DYER
Editor & Co-Publisher
Coastal Angler Magazine Fort Lauderdale
fortlauderdale@coastalanglermagazine.com
(954) 680-3900