By Captain Carlos Arguedas • Wing Man
The past few month at Los Suenos has seen great rooster fishing in the area. Some days of great action, releasing up to 10 – 11 roosters in one day with fish from medium size up to ones 65 inches long, like the one catch for Jennalee Matyas and Matt Douglas. It is also making inshore fishing great and very enjoyable around the rocks for families like Mr. Tramontano and daughters, and some other families than have been fishing with us here at Los Suenos Resort and Marina.
The cuberas also keep biting at the reef. The mullet snappers are pretty much gone, making the reef pretty much on again, off again, with some really good days and some slow days in between.
Nice cubera 45 lbs. plus caught by Tackle Up fishing team, showing his intense bright red. This makes them one of the most beautiful fish on the reef and the one that puts up an intense battle, making him the king of the area.
The month of June we have been blessed with a great wahoo bite and small mahi mahi by the hundreds with some of them showing up to 40 lbs. Tuna fishing also keeps going crazy, with big schools fairly close to shore. We're catching yellowfin tunas up to 90 to100 lbs. almost every day.
Some silk snappers also starting to show up as well on the deep drop.
With plenty of great fishing in the inshore lately, we're able to say "No Chicken Tonight" every day.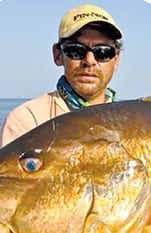 Captain Carlos Arguedas of the Wing Man and been fishing the area of Herradura Bay since 1990. fishing along the shore for roosters, bluefin trevally, etc. and the reefs near us for big Cubera, Goliath groupers, Amberjacks and Broom Tail groupers. Now based at Los Sueños Marina, the Wing Man boasts being the boat with the most trips inshore, making Carlos a specialist when it comes to keeping track of inshore bait and fish. Along the years he has found a knack to being very productive catching big fish, including goliaths and broomtails. Contact Carlos at hihook1@hotmail.com or visit www.wingmancr.com