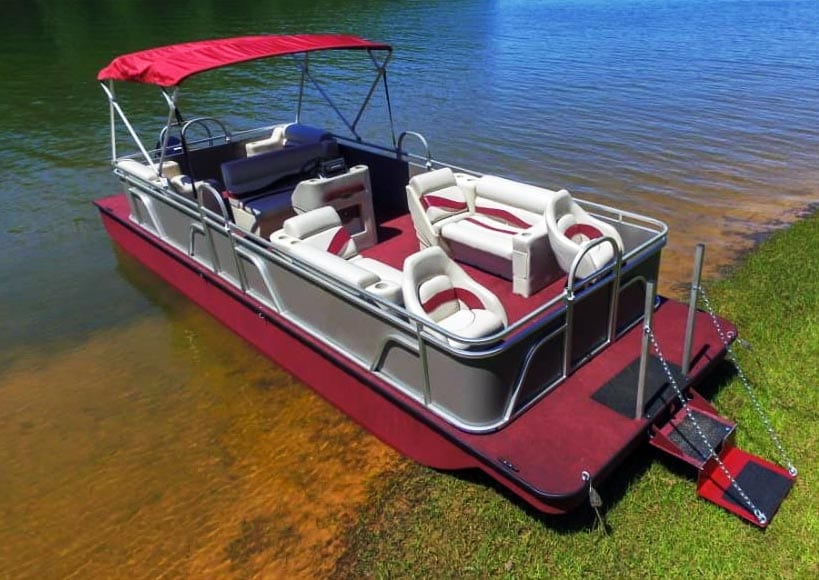 The SeaLander II is a pontoon type deck on an air boat type hull. The result is a fishing/party boat that floats in
3 inches of water. The 3 inch draft allows the boat to navigate shallow waters and to beach at any shore line. The front deck extends beyond the shore line and a drop step allows passengers to step on and off the boat without getting wet. The SeaLander needs no dock so it is perfect for campers who want to dock their boat right at the campsite or boaters who want to explore islands or
pull right up to beaches or picnic areas. The step arrangement is great for loading and unloading the boat and to allow
older passengers and young children to board safely . Wheelchair accessible ramps are also an option.
Since the SeaLander sits so high in the water, it planes quickly with no bow rise. There are no power robbing pontoons to push through the water, so there is plenty of power reserve for towables or wakeboards.
A towing tower and swimming ladder are standard features . In comparison to pontoon boats, this 90 HP deck boat design provides more power with less horsepower and greater fuel economy . The standard 90HP outboard
powers the 8' wide x 25'-8" long boat up to 32 mph.
The SeaLander handles beautifully in banking turns and incorporates hydraulic steering for easy control with zero feedback from the outboard motor. Personal requirements, ie., colors, seat arrangements, etc, are all optional.
SeaLander Deck Boats LLC builds
Specifications
Length: 25' 8"
Width: 8'
Passenger Capacity 13
Fuel Capacity: 24 gallons
Construction: 1/8" Welded Aluminum
Max HP: 115