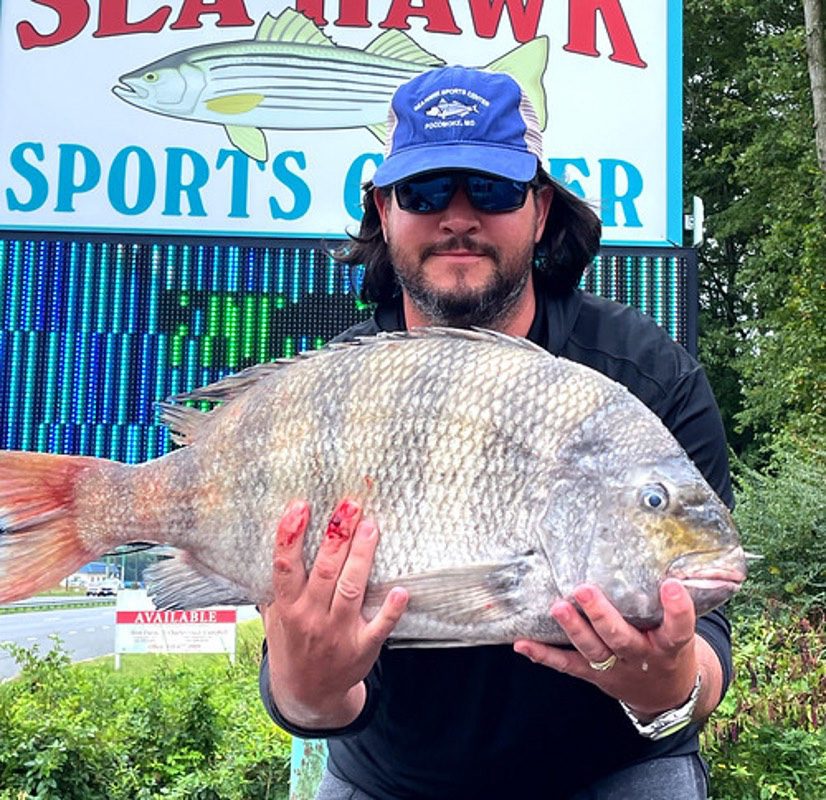 This 16.6-pound sheepshead is a new Maryland state record.
Brian Summerlin, of Princess Anne, caught his big fish Sept. 17 in Tangier Sound off Crisfield in about 15 feet of water. Summerlin was targeting sheepshead using soft crab rigged on a fishfinder rig with an 8/0 circle hook. He was fishing a spinning rod with 60-pound braid and a 60-pound fluorocarbon leader. He had been catching a mix of black drum, striped bass, bluefish and other species before encountering the record-breaker.
"I thought it was a black drum at first, due to the way the fish was fighting with some big head shakes, but then I saw it was a very large sheepshead as it surfaced near the boat," Summerlin said.  After landing the fish, he checked the fish in for preliminary weight and photographs at Sea Hawk Sports Center in Pocomoke City. He knew the fish was a contender after checking the state's current state records online.
The sheepshead's weight was confirmed on a certified scale at Kool Ice and Seafood Company in Cambridge, and it was measured at 26.25 inches in total length. Summerlin's catch broke the previous record of 14.1 pounds set by Daniel Mastronardi Jr. in August 2020.
The IGFA all-tackle world record sheepshead weighed 21 pounds, 4 ounces. It was caught in Louisiana in 1982.