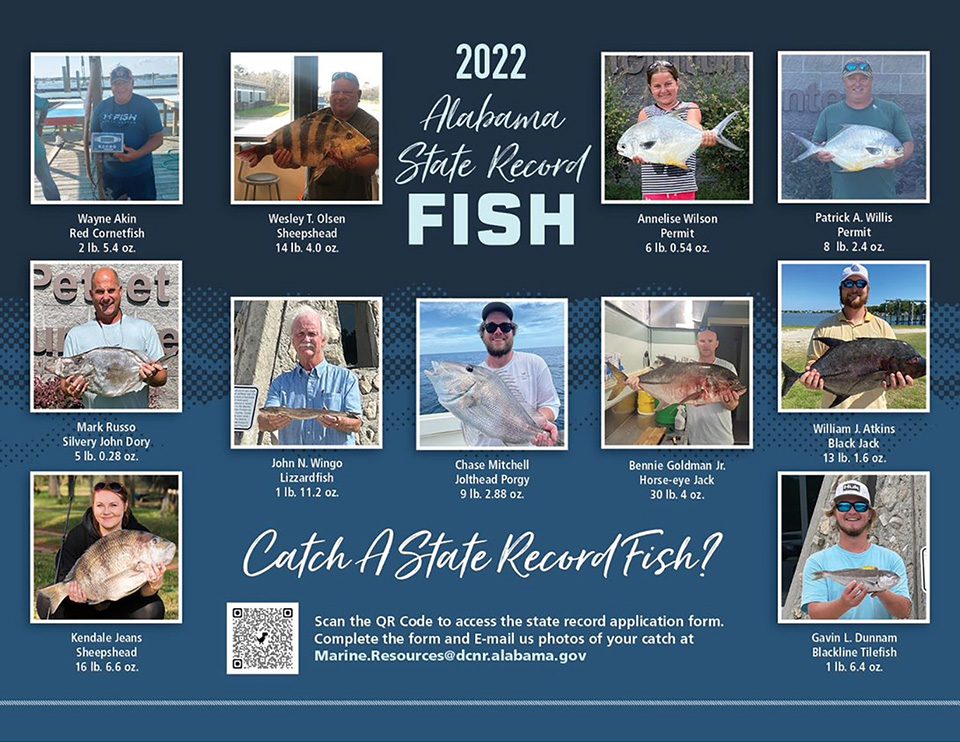 By David Rainer, ADCNR
Alabama saltwater anglers have been on a record-setting pace with 11 fish entering the record books from October 2021 to October 2022, and two of those records remained on the books for only months.
Scott Bannon, Marine Resources Division Director with the Alabama Department of Conservation and Natural Resources, said the only year that compares with the recent spate of record fish is 2006, when 13 records were set.
"When I looked at the number of records, what was interesting was that two of them were broken twice," Bannon said of the sheepshead and permit categories. "That's kind of unique over our history. I think several things contribute to that. If you look at the number of license sales and boat sales, there are more people taking advantage of the fishing opportunities we have in Alabama. That means more people on the water, more trips on the water, so there are more opportunities to break these state records.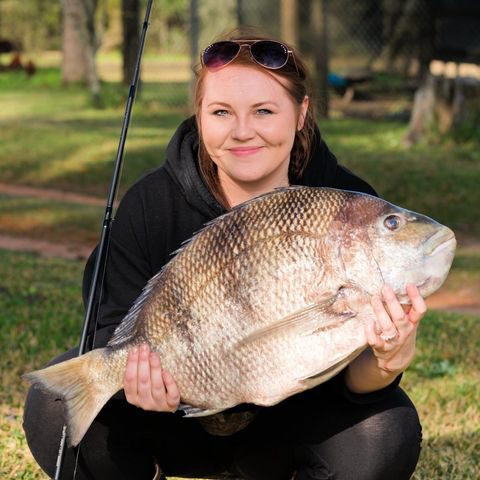 "In addition to that, you're really seeing people begin to do more of these deep drops and more offshore trips with better electronics. Boats are more efficient. There are confidence levels and safety with more people going offshore, so we're seeing these fish that we haven't seen historically. I think this is great news for Alabama. I think it shows the benefits of having such a great saltwater fishery, both inshore species and offshore species."
One species familiar with Alabama anglers that had the record broken twice was sheepshead. Wesley Olsen landed a huge sheepshead that weighed 14 pounds, 4 ounces, but it didn't stay on top long. Kendale Jeans reeled in a monster sheepshead that hit the scales at 16 pounds, 6.6 ounces.
The other twice-broken record came from a fish not seen as often, permit, a cousin of the Florida pompano in the jack family. Pompano and permit look very much alike, although pompano don't grow nearly as large, topping out at around seven pounds. Permit weighing 20 pounds are fairly common in south Florida.
Annalise Wilson set the Alabama record in October 2021 with a permit that weighed 6 pounds, 0.54 ounces. In August 2022, Patrick Willis landed a permit that weighed 8 pounds, 2.4 ounces.
"Historically, we haven't seen as many permit, but I think now people are starting to target them and pompano more often," Bannon said. "I think that's a product of social media, where people are sharing their fishing tips, how to rig for these type fish and where to fish for them.
"That's good and bad. There is higher effort on these species, but I believe that could be because of the cost of fuel. More people are taking inshore or closer-to-the-beach trips."
The prime time to catch sheepshead in Alabama is fast approaching. Sheepshead spawn in the nearshore waters during the early spring before scattering. Before the spawn, the fish hang around inshore structure and feed on barnacles and other crustaceans. Sheepshead are often found around rock and concrete jetties and pilings as well as petroleum platforms, bridges and oyster reefs. Sheepshead have some serious front teeth to chisel barnacles off structure and to crack crustacean shells.
"Those are two big sheepshead," Bannon said. "It's amazing to see two big sheepshead like that, but that 16-pounder is an extraordinary fish. I don't know, maybe we'll start seeing more of these extraordinary fish with more people learning how to fish for these species. People are learning to fish more specific and not as generic."
Another record fish was Chase Mitchell's jolthead porgy that weighed 9 pounds, 2.88 ounces.
"The porgy is a fish we've never had a category for before last year, when the record was established," Bannon said. "Now that record has been broken. Again, I think it's because of the change in effort, style of fishing and areas being fished."
Also going into the Alabama record books is a black jack caught by William Atkins at 13 pounds, 1.6 ounces; a blackline tilefish caught by Gavin Dunnam at 1 pound, 6.4 ounces; a horse-eye jack caught by Bennie Goldman Jr. at 30 pounds, 4 ounces; a red cornetfish caught by Wayne Akin at 2 pounds, 5.4 ounces; a silvery John Dory caught by Mark Russo at 5 pounds, 0.28 ounces; and a lizardfish caught by Nelson Wingo at 1 pound, 11.2 ounces.
For more from David Ranier, see his weekly column at www.outdooralabama.com.