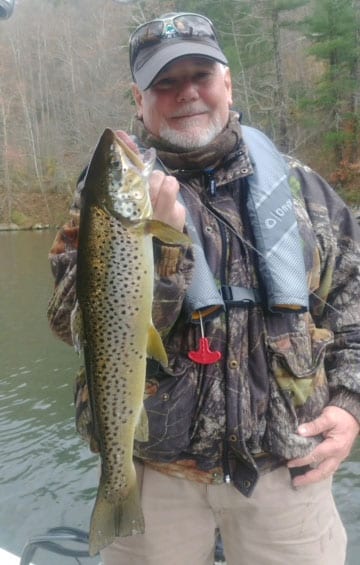 By Aaron Kephart
Well, 2018 is here, and I could not be more excited about the fishing that is going on right now and that will be coming up throughout this year. Our Murphy area lakes are in excellent health, and we have some amazing options for anglers (in fact, the diversity and number of different species available is truly remarkable). However, I would like to spend this month's article looking back on the fishing in 2017. It was the best year on record for Mountain Lakes Guide Service in terms of numbers of trips, and I would like to express my sincere gratitude to all of my clients. I would like to look back at my records for 2017 and give you an idea of what we caught and at what times, just in case you were thinking of planning a trip for this year and wondering when to schedule it.
January 2017 saw me spending a tremendous amount of time catching smallmouth and trout. The smallmouth bite in particular was absolutely insane, averaging over 30 per trip. We also ran into some very large brown trout, with quite a few "personal bests" caught by clients. The smallmouth bite continued to be on fire, and the trout numbers increased a bit (per trip) in February of (although the average size declined just a bit). We also started running into some big largemouth again, and I had a client land a 31-inch walleye as well. March was a continuation of the prior two months: big smallmouth (a lot of them) with quite a few trout in the mix. The largemouth numbers also dramatically increased, and I started pursuing spotted bass more than I had the previous few months.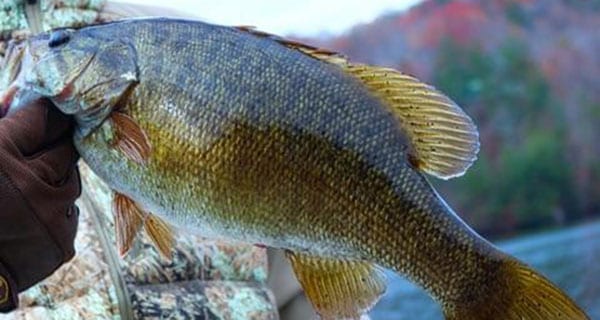 April saw a shift in my focus. I personally don't like to bother largemouth or smallmouth when they are spawning, and I usually spend the first two or three weeks of April focusing on catching and releasing huge prespawn, spotted bass (they spawn later than smallmouth or largemouth). We had an amazing few weeks on Chatuge (in fact, one of my clients made a video of our trip and uploaded it to YouTube, and if you want to see what to expect in a day of spot fishing you can just search Chatuge Lake Mountain Lakes Guide Service). We had a bunch over 5 pounds, and even a couple over 6. The spots started bedding heavily towards the end of the month, so I left them alone and transitioned to stripers (and got on a particularly good topwater and swimbait bite for them the last part of the month). Late April was an absolute bonanza for stripers on artificials. We also started catching quite a few big walleye in this same time frame.
May was the all-around best month of the year for stripers and walleye, last year. We caught large numbers of big stripers (with some huge hybrids mixed in), and we caught more walleye than I have caught in the last 20 years. Every trip seemed to be better than the last. June was more of the same, in terms of striper numbers, and although we still caught the occasional walleye, the numbers decreased as the water got hotter. We also caught quite a few crappie on a few night trips in this time frame.
July and early August led to a slight slow down, in terms of overall numbers of stripers, but we still managed to catch quite a few each trip. The striper numbers increased considerably later in August. We got back on the big smallmouth in August as well, and also started catching a ton of big largemouth. The smallmouth and largemouth bite continued to be consistent throughout September and October, and the striper bite really took back off in September and the first half of October. We started fishing quite a bit on Chatuge again, and caught tons of big spots and some good numbers of huge hybrids.
November saw us continue to catch big largemouth in big numbers (August to November was one of the best stretches I have ever seen for big largemouth), but as the water cooled towards Thanksgiving, we started finding the smallmouth grouping up in their winter locations, and we started to catch big numbers of trophy smallmouth. We also started to see some big brown trout showing up sporadically. November saw a continued strong bite for spots and hybrids on Chatuge, particularly in the early part of the month.
December was one of the best months I have ever experienced for sheer numbers of big smallmouth, and although a massive cold front in the middle of the month slowed things down, it managed to put the rest of the smallies, that had not committed to their winter pattern, in the schools where they belonged. We also started catching a bunch of trout, as we do every December. Now that the water temps have dropped considerably, cold fronts won't have much of an impact, and I fully expect to be catching boatloads of big smallmouth until they start transitioning to their prespawn locations in early Spring. The trout bite should be consistent until mid Spring as well.
As of this writing, January is filling up, but I still have a few January and February dates left. I am also currently booking for all of 2018. If you are interested in a winter smallmouth trip you will never forget, with the possibility of the largest brown trout of your life, please give me a call at 865-466-1345 and we can make it happen, or if you want to book a trip for later in the year we can look at those dates too. You can also check me out on [email protected] to see what we are catching at the moment. Either way I hope to hear from you, and thanks for your time!
Aaron Kephart is the Owner of Mountain Lakes Guide Service. To book a guided trip on one of the Murphy area mountain lakes, contact him by phone at 865-466-1345 or by email at [email protected] Check out his website at http://www.mtnlakesguideservice.com and catch him on [email protected]