Greenville, SC (August 23, 2018) – Wilderness Systems, the industry-leading producer of premium fishing kayaks, is proud to announce its presenting sponsorship of the 2018 Ride the Bull Kayak Rodeo, a live catch and release bull red tournament based in Grand Isle, Louisiana taking place on August 24-25, 2018. This year's Ride the Bull event marks its 9th anniversary and  hundreds of anglers from all over the country will battle it out in the world's largest extreme fishing kayak tournament.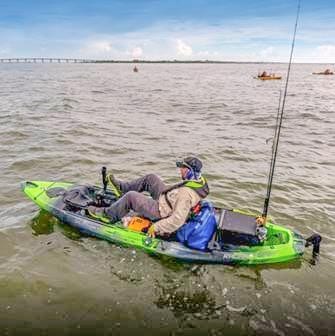 Ride the Bull provides an unforgetting experience for anglers of all ages and experience levels, making it an ideal event for the entire family. Along with the action that will be going down in the water over the course of two days, there will be a list of vendors on display, including Wilderness Systems, who will be displaying their latest boats and accessories for anglers looking to achieve greatnes on the water. Event participants and spectators can enjoy activations on land while the crowd awaits official weigh-in to see who brought home the biggest redfish.
"It's important for Wilderness Systems to be a part of the Ride the Bull event each year, especially as a presenting sponsor for one of the largest kayak fishing events on the calendar." said Adam Ott, Brand Product Manager at Wilderness Systems. "We are always looking for ways to enhance the kayak fishing experience and being on-site at the event lets us really immerse ourselves in the community, with a core group of anglers that feel as passionate as we do."
Kayak Tournament Awards
Members of the dominant Wilderness Systems pro fishing team will be on-site to compete and interact with the anglers who are going head to head in this annual redfish tournament in Caminada Bay. Awards and prizes this year are expected to top years past thanks to Wilderness Systems and all of the sponsors that support the sport and make the event possible. All it takes is one fish to bring home the championship at Ride the Bull!
Wilderness Systems' full lineup of products are available online at wildernesssystems.com, along with retail locations nationwide. For more information, visit wildernesssystems.com, follow the brand on Instagram at @wildyfishing and Facebook at @WildernessSystemsKayakFishing.