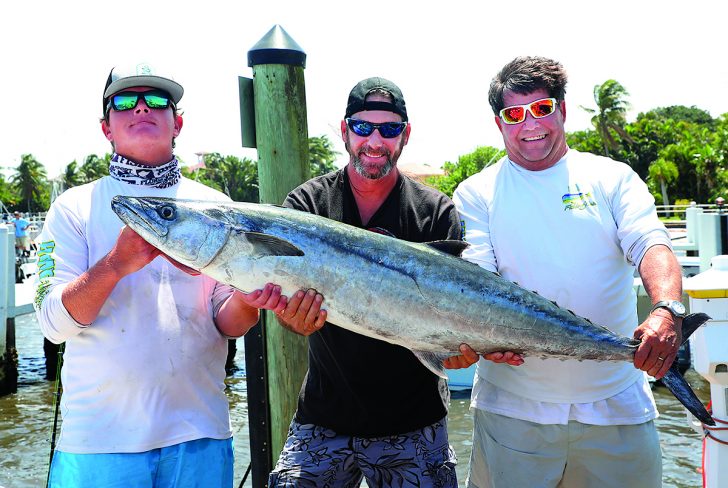 by Willie Howard, Contributing Writer
Kingfish dominated the scales during the 25th annual Lantana Fishing Derby, held May 4th with the weigh-in at the Old Key Lime House docks.
Joe Carriker and his HMT Fishing Team won the $2,500 top prize with a 42.5 pound kingfish caught by Ricky Denti.
Carriker said he, Jon Tonnis and Denti were slow trolling a live blue runner behind the Bee Hive 24 HMT in 90 feet of water off Juno Beach when the big kingfish hit around 10 a.m.
Tom Walsh on Kraken was close behind HMT's winning fish, a 41.8 pound king that won the kingfish division.
The second heaviest fish in the kingfish division was just three-tenths of a pound lighter than Walsh's at 41.5 pounds. It was caught by Robert Tonnis on Hoo's Hoo.
Third place kingfish, 36.4 pounds, was caught by Michael Mummert on In It To Win It.
Only a few dolphin (mahi mahi) and no wahoo were weighed in this year's Derby, which attracted 54 boats.
Michael Murtagh won top dolphin with a 12.47 pounder caught aboard Hooklesslure, followed closely by Geno Pratt's 12.25 pound mahi, caught on the Geno V.
Fifty Lantana area boys and girls participated in a Kids Derby held at Bicentennial Park the morning of the Derby.
Each young participant took home a rod, reel and tackle box. The heaviest fish won a bicycle donated by Lantana Fitness.
The annual Lantana Fishing Derby is organized by the Greater Lantana Chamber of Commerce.