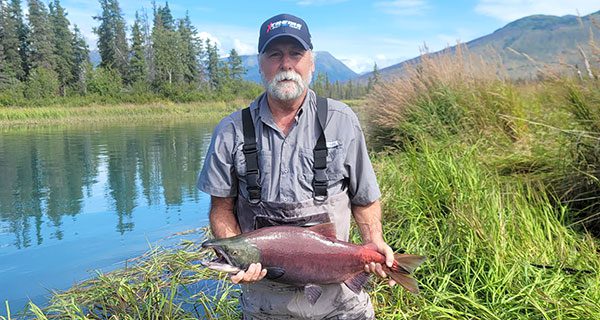 By Gary Turner
First off, let's recap: 2021 was rough for my Bucket List, but I checked off the Sailfish! I ended up catching seven before the year was out. Thank you, Capt. Jimmy Dean! In 2022 I got on a fishing roll. With Capt. Johnny Stabile's help, I checked off the Big Tarpon in Biscayne Bay under the skyscrapers of Miami lights. We also went to the Everglades to check off Oscars, Bullseye Snakeheads, and several other species that weren't even on the list. Here's to hoping 2023 continues to be great for my fishing life! Now to the list, and there is no rhyme or reason for the order, by the way.
1. The Swordfish. Still at the top of my list. I am going to try hard to get this one checked off this year. I have a couple of possibilities I'm working on.
Catching the next couple of fish on my Fish Bucket List will depend on whether I make it back to Alaska to fish in the summer or not. I did make it back in 2022 and took five friends with me. We fished until we couldn't fish anymore, but still didn't get these checked off. My hit list for Alaska still includes:
2. The Salmon Shark. The smaller cousin of the great white, it is an apex predator of Alaska, like the grizzly. I plan to go out of Resurrection Bay in Seward in hunt of the salmon shark. As of right now, I don't have a captain selected for this, so if you have a recommendation, kindly email me the info. At up to 1000 pounds and 10 feet in length, this fish will be a worthy opponent. They average more in the 200-300 pound and 6-to-8-foot range.
3. The Halibut. A 300 pound or bigger halibut to be exact. This will also most likely be out of Seward, Alaska since I have several friends who fish out of there for halibut. It may take several years to find this fish, but every halibut is an adventure. I love fishing for them there and out of Homer.
Back to the Lower 48 list:
4. The Snakehead, northern species. Why? Only because I have never caught one and like a good Pokémon Go player, I need to catch them all! Or at least one of every species that is big enough. I think Pennsylvania is where I plan to look for these fish.
5. The Sturgeon. This one is new to the list (as I check some off, I add some new ones 😊). This fish will require some travel, but it will be worth it. After watching Ty Kleeb's (TyPigPatrol) video, I decided that this one looked like a fish I wanted to catch. My friend Brent Riddle caught one a few years ago, and he said it was awesome too.
6. The Giant Alligator Gar. This is a trip I have talked about for years and just haven't been able to pull off. Dawson Hefner and I have talked about fishing for the giant alligator gar, so I just have to get out there to the Trinity River and make this happen. Dawson regularly guides people to catch monster gar. Maybe this will be the year!
7. If I get back to Brazil, the Redtail Catfish is on the list! We tried to get one when I was there last September but had no luck.
8. The Bluefin Tuna. This one may be on the list for a few years, but it is getting more and more thought. My friend Mitchell Vandiver has been telling me about catching tuna at the Prince Edward Island area, PEI as they all call it. The more we talk about it, the more I think that one is going to move up the list. My other choice of locale may be North Carolina if I don't make it to PEI this year.
9. The Goliath Grouper. I would like to manage to just reel him up and take some awesome pictures and release him back to his deep retreat. Again, this is a Florida trip for me. I have several friends that want to do this too, so it should be a great trip when we pull it off.
10. A Musky, I have never even seen a live musky! I saw the lures they have in Bass Pro in Illinois, and I was like "What are those giant lures for? Musky, wow they must be BIG!"
11. Jaguar Cichlid. They are just a cool looking fish and so they made the list. I actually have a separate cichlid list and invasive species list I'm working on too.
12. Last, but not least, Bluegill– not just any Bluegill, one over 3 pounds. I hope to travel to Lake Havasu, Arizona with friends this summer to check this off the list.
That's my list and there are a ton of other fish to catch out there. If you have time, email me and tell me about your list for 2023.
I want to also thank some people who make my fishing better! Troy Soukup at the Happy Hooker; Damon Melco at Xtreme Bait Tanks, David Ashby at Bottom Dwellers Tackle, the people at Columbia Sportswear, and my captain and fishing friends Dewayne Proffit, Santee, SC; Joe Dipietro, McCaysville, GA; Jimmy Dean, Daytona Beach, FL; Eric Crowley, Ellijay, GA; Chad Smith, Eatonton, GA; and Capt. Johnny Stabile, Pompano, FL.
Make 2023 your best fishing year yet! Please remember, if you are not going to eat it, don't kill it.
"Tight Lines and Squealin' Reels put a smile on my face every time."
Please check out Gary's YouTube channel: Fishing With Gary. If you want more information about fishing, you can reach me at gary@purgeright.com.