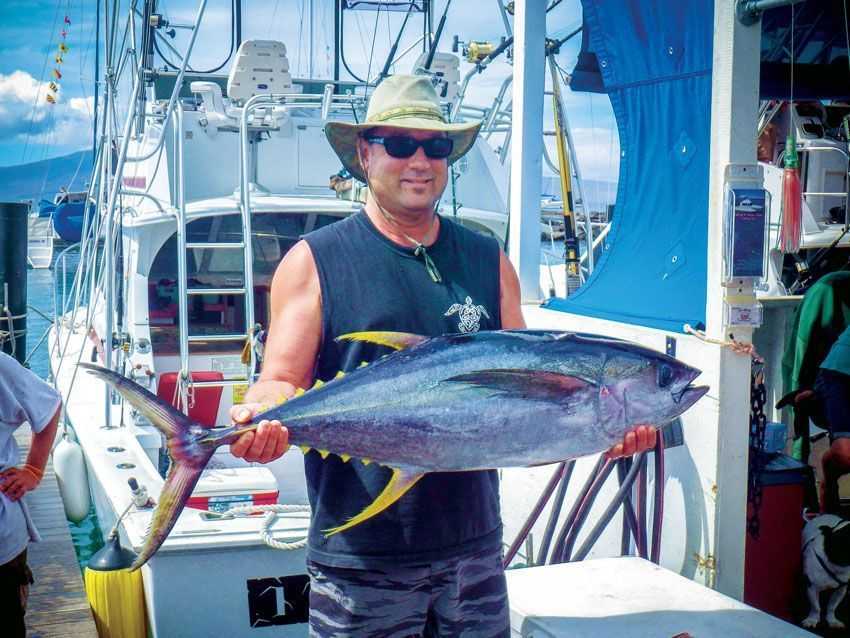 Photo by CJ Anderson
Midnight Lump, The Gulf's Worst Kept Secret
CAM Staff
It's hardly a secret. Sackett Bank, better known as Midnight Lump, is one of the most well-known fishing destinations in the Gulf of Mexico. It is an ancient salt dome, pushed up out of 400- to 600-foot depths to top out at less than 200 feet of water.
Each winter on and around Midnight Lump, Gulf tuna anglers take a break from tailing shrimp boats and settle in to chum up big yellowfin tuna. From about December through March, it is one of the best tuna fisheries in the world. Seven of the top-10 heaviest Louisiana yellowfin were caught in the vicinity of the Midnight Lump, including the former state record, a 240.19-pound behemoth caught in March of 2005. In addition to yellowfin, a 1,152-pound bluefin tuna was caught over the Midnight Lump in 2003, as well as the state record blackfin tuna of 37.6 pounds in 2001.
It's easy to see why more than 100 boats can be found jockeying for position on the Midnight Lump when the fishing is good. The dome is roughly 3 square miles and circular, which is a pretty large area, but prevailing currents dictate which side of the dome offers better fishing. So the boats pile up.
For those who need a little more elbow room, a few miles from the Midnight Lump runs the Gulf's most dominant feature, the Mississippi Canyon, which drops into depths of 1,000 feet and much deeper in places. Along it there are multiple underwater humps similar to Midnight Lump that top out in 300 feet or less. Plankton-rich currents from deep in the Gulf slam into these vertical structures, which diverts currents upward. Baitfish gather to feed in the nutrient rich water rising to the surface, and the game fish congregate.
Fishing techniques vary, but many prefer to chum and live bait. It has been said part of the reason the fishery remains so good is because all winter long there are dozens of boats dumping boatloads of chum in the water every day the weather is good enough to fish. It's like a permanent chum slick. Fish follow the food. It doesn't matter whether it's swimming or being slung from the back of a boat.
A good slick usually draws up the bonita first, and the big yellowfins follow. It can sometimes become difficult to get the lines past marauding bonita and other species that shred baits. But when tuna show up in earnest, you'll know it. Along with the ever-present birds circling to dive on bait being pushed to the surface, schools of tuna will show themselves. Sometimes they're so enthusiastic with bloodlust, they'll come clear out of the water to hammer bait on the surface. The birds and churning water can be seen from a distance.
Along with the yellowfin the Midnight Lump has become famous for, wahoo, blackfin tuna, kingfish and several large shark species move through the area in winter. Marlin and bluefin tuna have also been known to show up occasionally.
It is a relatively short run on a charter from Grand Isle or Venice, La. to access one of the best offshore fishing locations in the world. It is a little more than 20 miles from the Southwest Pass of the Mississippi River. But if you're travelling to fish, be sure to set aside a good window of time and weather dates. The seas can get pretty nasty that time of year.
First-timers are advised to hire a good charter captain to learn the ropes. There's a lot more to catching fish than just setting up somewhere on the Lump and chumming. The coordinates an experienced captain has in his GPS are invaluable, and the techniques they use have been honed over the same years of trial and error it would take a first-timer to learn how to catch fish proficiently.