by Capt. Matthew Trombley 
Traditional early winter conditions in the Northeast have fish heading for normal winter haunts as water temps plummet to high 30's and low 40's. November began warm and mild which had some fish still staging in late fall patterns but an abrupt cold front over Thanksgiving week put a damper on that, ushering in lake effect snow and cold/windy conditions on many waters.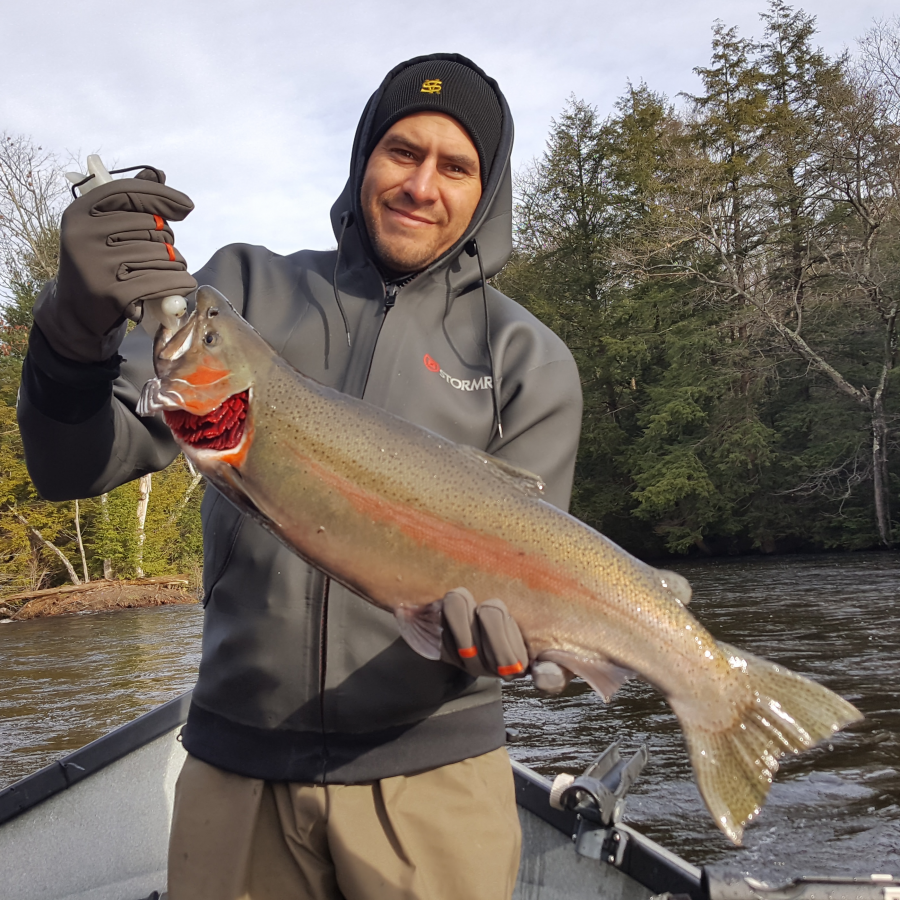 Lake Champlain Bass are certainly feeling the cold as water temps drop and secluded bays & back waters begin to freeze. Smallmouths were working deep water structure in 25 to 40 feet of water with drop shot rigs & ½ oz jigs rigged with swim baits taking fish. Prior to the cold front, anglers were reporting 20 to 35 hook up days with occasional pike & walleye mixed in. Largemouths too are congregated near drop offs & weed edges with slow working crank baits & spinner baits taking some pigs! One angler reported a 6.6 pounder from Lake Bomoseen, taken in mid-November off from a drop off on a rock point. Gusty Northwest winds have made open water fishing tough most days, though the waterfowl hunters have seen good numbers of canadian mallards & divers such as old squaw & goldeneye showing, so there has been a plus to the blast of cold air!
Salmon River Steelhead are spread through the system from top to bottom with a few late cohos and small browns mixed in. The cold front Thanksgiving week brought over 30" of snow to the region, beginning the true "winter steelhead weather" that die hard's love to see! A warm spell the first week of December though brought rain with it, melting all of the snow and drawing some of the highest flows seen in some time. Local creeks were blown out and the main Salmon hit a high mark of 3000 cfs at Pineville. This slowed the fairly steady bite for four or five days, once flows began to recede the bite picked back up. Fish were being taken bottom bouncing egg sacs, as well as under floats with beads taking fish as well. Guides back trolling or "plugging" reported taking fish on #35 hotshots & Maglip 3.5's. Blue egg sacs, bright colored beads and Gold/Orange plugs taking fish with the higher flows have been the best bet. Fish are now congregated in the slower water & slack along holes. Keep baits close to "frog water" & hold on!
As long mother nature continues her normal trends, ice fishermen should be looking at a banner year! Local ponds are locking up already & the south end of Champlain should see ice soon! Get out your warm cloths, sharpen your augers & keep your kreepers handy! Stay safe everyone & Happy Holidays!
---
Capt. Matthew Trombley 3rd Alarm Fishing Charters & Guide Service www.3rdalarmcharters.com Silent Predator Wool Apparel www.nesilentpredator.com 802-345-7949