The 40th Annual Stuart Boat Show returns Friday, January 10th-12th for a three-day festive event, featuring over $100 Million in marine products on display both in-water and on land. More than 500 boats of all shapes and sizes will be on display. Along with all of the activity that surrounds the boat show, this year the show's producer, Skip Allen, of All Sports Productions, Inc., has partnered with Florida Sport Fishing & the Martin County Tourist Development Council to present the 2nd year of the Fisherman's Village, an area devoted exclusively to fishing. There will be a "Kids Fishing Seminar" with rod & reel giveaway and raffle tickets to win a 25 Contender from the Miami Billfish Tournament.
Spanning a quarter of a mile on land and situated across three marinas, the Stuart Boat Show offers a variety of boats that will leave every boat lover satisfied. "We are expecting over 150 local, national and international exhibitors at this year's show with hundreds of boats in-water and on land," said Allen. Hundreds of different boat brands and models will be represented at the show, including the latest models of motor yachts, cruisers, trawlers, skiffs, speedboats, sport fishing boats, and pontoons. Boats range from 12 feet to over 100 feet in length and are priced from thousands of dollars to millions. Accompanying this vast array of boats will be engines, electronics and every conceivable accessory from major marine manufacturers worldwide.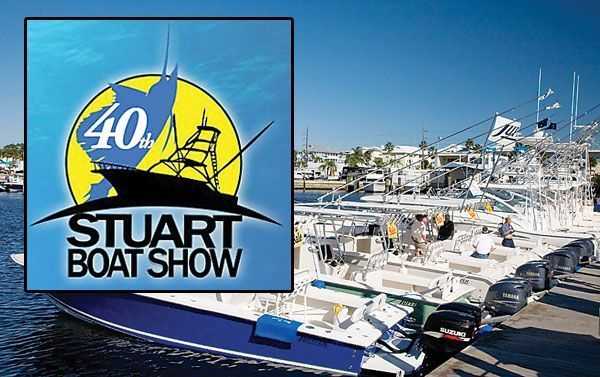 Where else can you kick off your shoes and step aboard the luxury million dollar yachts? Visitors also will see the latest in personal watercraft, marine electronics, outboard and inline engines, boating equipment and accessories, boat lifts, fishing gear, nautical clothing and jewelry, as well as financing and insurance companies.
You can register free for a chance to a trip for two to Schooner Bay Resort in the Bahamas.
954-522-5288 or go to: www.allsportsproductions.net or https://www.facebook.com/StuartBoatShow.
What: 40th Annual Stuart Boat Show
When: Friday, January 10th-12th (10-6pm)
Where: HMY's Waterway Marina – 290 N. Dixie Hwy.
Apex Marine – 110 N. Dixie Hwy.
Stuart Harbor – 54 N. Dixie Hwy.
(SR 707/Old Dixie Hwy. in Stuart connects all 3 marinas by land)
Boat Show tickets are $10 at the gate and kids under 10 are always FREE.
Parking, water taxi and shuttle service available throughout downtown Stuart.