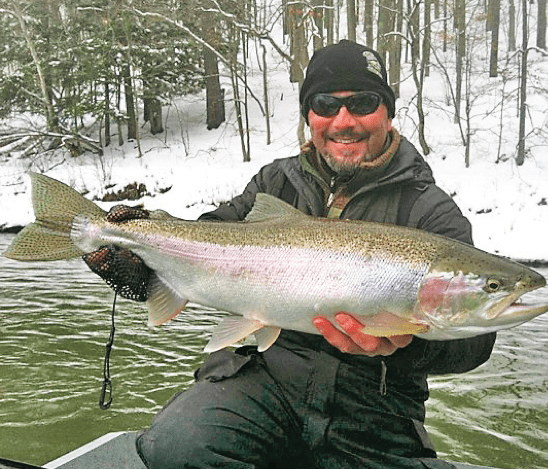 January brings thoughts of the first steelhead being caught in the New Year here on the Manistee. This is a time of solitude on the river, sometimes you can go for days not seeing another boat or bank angler. It seems like your own private paradise most of the time. The weather can be the deciding factor some days but by watching the weather forecast and planning your fishing day around warm ups, you can make it happen. Water temperatures in the winter months on the Big range from 32 to 35 degrees on average. As an angler, you have to think a little different this time of the year. With the water temperatures so low the fish tend to slow down and get lethargic. You should do the same as an angler. Look for slow woody runs and pools, slow current seams, and current seams along deep cut banks. Places the steelhead can get out of the main currents and not have to work so hard.
We fish these type of spots with floats. Whether it being with a floating line and fly rod, float rod and center pin reels, or spinning gear. Fishing a float of some sort enables you to control the depth and speed of your offering to these fish. The offerings for fly anglers should be an egg pattern, be it trout bead or yarn egg and a nymph of some sort. Hex's, Green Caddis, Pheasant Tails and Buggers are my preferred patterns. Center pin and spinning gear junkies may want to think about spawn, wigglers or jigs and wax worms to get it done.
No reason to rush out first thing in the morning, sleep in and have an extra cup of coffee. Most days the bite is best from late morning to early afternoon. Remember think slow and get out and enjoy one of Michigan's hidden winter activities, winter steelheading here on the Big Manistee.