By Paul Caruso
If you have watched the news lately, you probably understand why almost half of the commercials are for anti-depressants. It seems you have to really search hard today to find a story about a person who defies the odds and remains positive even in the face of adversity. For that reason, I thought it would be appropriate to share a truly inspirational story of a man I have had the honor to call my friend for over the past 20 years, Bill Chapman.
I first met Bill when he was the Store Manager for Boat U.S. in Pensacola, and I was his District Manager. In my 25 years of retail experience I have never come across another manager who created such a family dynamic with his team or was more involved with his local community. So when it came time to find a Publisher for the Alabama Coastal Angler Magazine, I knew Bill was my first choice. The only problem was that he had just been diagnosed with a malignant synovial sarcoma tumor near his right ankle and had to have a below the knee amputation. For most of us the thought of starting up a new magazine and distributing 10,000 copies a month locally, one month after losing a leg to cancer, would be easy to say, "No" to. Luckily for us the words no or can't are not part of Bill's vocabulary.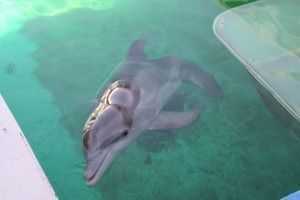 So in the spring of 2010, he was fitted with a prosthetic leg by Jack Pranzarone of Hanger Prosthetics and Orthotics in Ft. Walton Beach, Florida, and Bill began learning to walk again. He refused to use a wheelchair and just one month after getting his new leg, he launched his magazine. Just to make things a little more challenging, Bill had to deal with the Gulf Oil Spill during his second month and, if that wasn't enough, his new prosthetic leg wasn't working properly and caused him incredible pain. Changes in his limb size and the amount of time he spent working were causing him even more injury. Bill was then fitted with a new prosthetic with a small air pump that electronically vacuums air for a more secure fit. Bill also picked out a palm tree design sleeve to go over his new leg.
This sleeve is similar to the one worn by Winter, the dolphin made famous in the movie, "A Dolphin Tale." While checking the new prosthetic at the Hanger office, Jack began discussing the movie and how he was friends with Daniel Strzempka of the Hanger office in Sarasota, who designed the tail for Winter, and how he could possibly arrange for a meeting.
A month later, with the assistance of Krista Rosado of the Clearwater Marine Aquarium, Bill was headed for a meeting with Winter. We were both were given a first-class tour of the facility by John, one of the excellent volunteers, and then a meeting with Abby, Winter's trainer, who took Bill to the water for his introduction. Winter immediately came to Bill's side and launched herself onto a float so that she could get a better look at him. "It was amazing," said Bill, "When Winter swam over and looked right at my leg, I felt a connection as if we had both overcome some of the same difficulties." Bill has been a huge inspiration to myself and others, watching him with Winter is a moment that changed us both forever. I want to thank Bill, his Doctors and the Clearwater Marine Aquarium for making this all possible.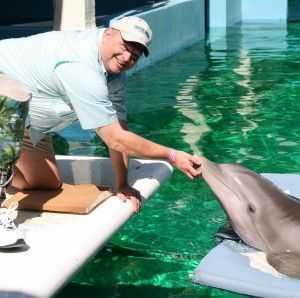 I hope that next time you're feeling like life isn't fair or it's just too hard, you will remember Bill and that in doing so it helps you put things into perspective just a little. The world is full of inspiration and miracles. You just have to keep an open mind and take the time to find them.
The Clearwater Marine Aquarium is the official home of Winter the dolphin and you can watch her via webcam at www.seewinter.com. You can also visit the Aquarium, which is located at 249 Windward Passage, Clearwater Florida 33767. It's a great place to bring the kids, not only to see Winter but to enjoy the day and learn more about their CMA program which protects and rehabilitates all kinds of marine wildlife. Author Paul Caruso is Publisher of Coastal Angler Magazine, Ft. Myers Fl.
[easy-social-share]