A Great Time for Father and Son
Catching Striped BASS at Block Island
By Go Fish Dan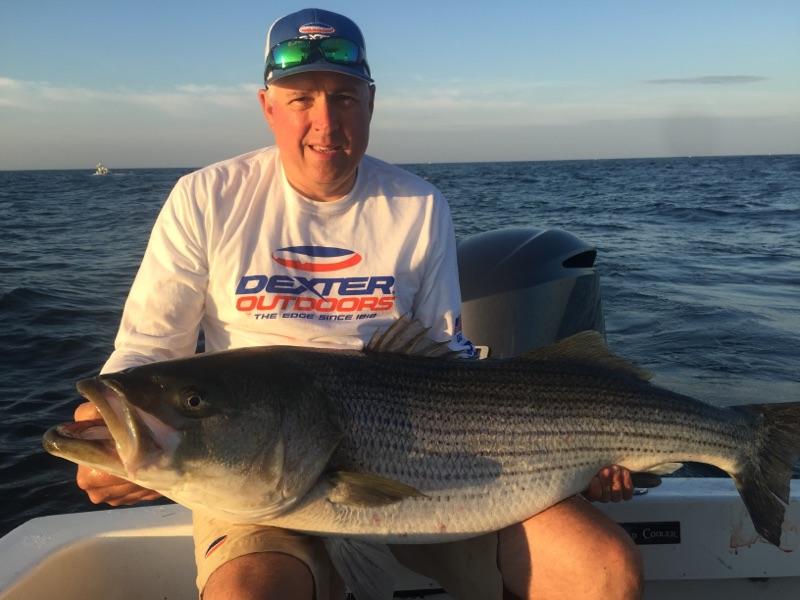 They say that timing is everything in life, and the same is true with fishing. First, you have to find the time itself—a few hours to cast your rod. Second, you need the right combination of timing, skill, knowledge and luck to have a great day on the water.
A couple of weeks ago I had the privilege of going fishing with my good friend Jeremy Mattson, general manager of Webster Square Tire & Auto in Worcester, Massachusetts, his son, Jacob, and Captain Mel True of Fishnet Charters. The reason for our trip was for Jeremy and Jacob to get back out on the water again. According to Jeremy, Jacob used to love fishing, but in recent years he hadn't been able to get out that much. It happens with teenagers, even my own boys, who have so much going on with team sports that they rarely have time for recreational fishing.
Jeremy and Jacob were determined to get out there, however, even if that meant starting at 2 a.m. on a Saturday morning. I met Jeremy at his house and Jacob crawled into the backseat of the Chevy Silverado, promptly curled up into a ball and fell asleep. Two hours later we arrived at Point Judith, Rhode Island, where we dipped the trusty DUSKY 25 with Captain Mel.
Four a.m. may have been an ungodly hour for Jacob but it's necessary to get to "our location" at just the right time. Each year, striped bass make their way all the way from Virginia to Maine during the spring and summer, and in Mid July they were right in our wheelhouse.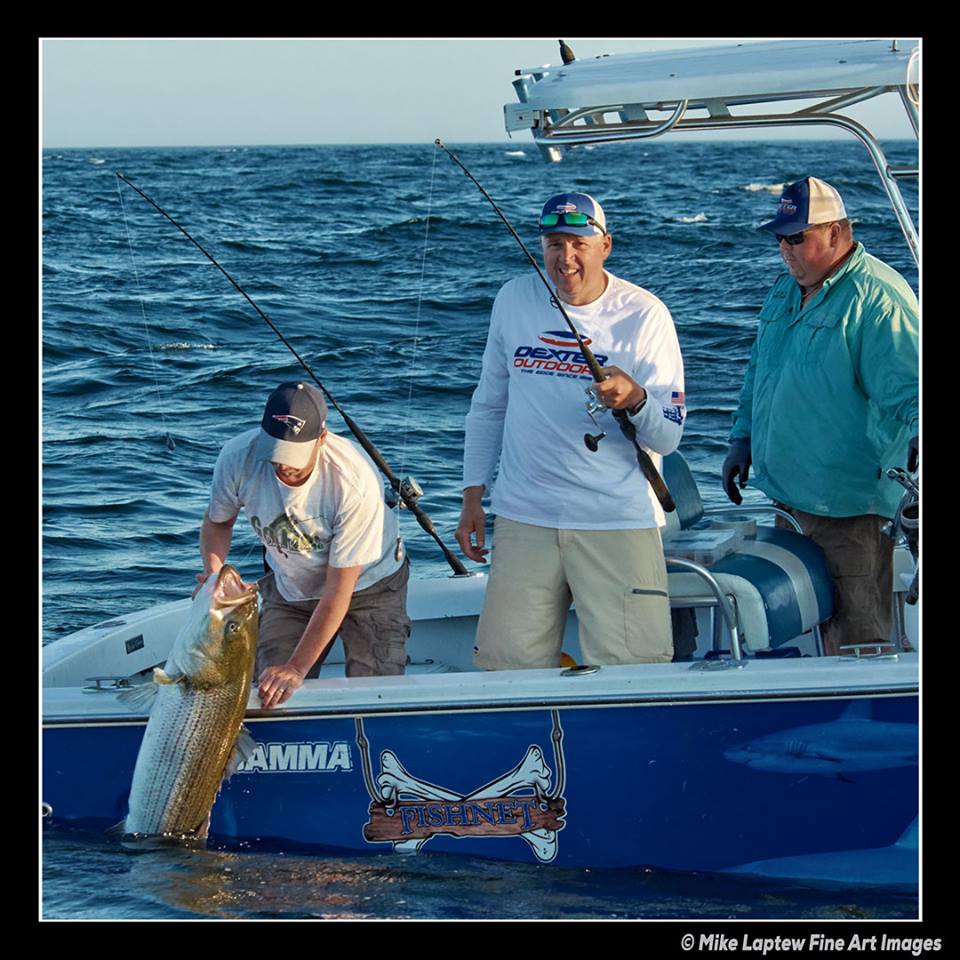 I contacted Captain Mel because of his reputation (well earned) for always being on his game, such as the time he led me right to a 52.4-lb. striped bass. Also, hiring Mel for
the day was one of the ways I give back to those who support the New England Fishing & Outdoor Expo. Plus, it doesn't hurt that he's a gregarious type of guy who enjoys educating people on the finer points of fishing.
On this day, Captain Mel was keen on helping Jacob, who we had already decided was going to bring in the first catch of the day. Sure enough, at 5:10 a.m. he hauled in a 46-lb. striped bass.
After that we had several hook-ups on consecutive drifts, thanks in no small part to our Captain Mel True Signature Series (CMTSS) rods and Fin-Nor Marquesa 12 reels. One by one we brought in keeper size stripers. There was even a moment when father and son DOUBLED UP! It was a great moment for the memory banks and real validation for our trip. We released all but two LEGAL size stripers to enjoy later on at the grill. After that we switched it up by going for some sea bass because we knew they'd make delicious table fare as well.
Later, we prepared our fresh catches with our Dexter Knives, enjoyed a great meal, and talked fishing with Captain Mel. It was the perfect end to a perfectly timed adventure for the father and son team of Jeremy and Jacob, myself, and Mel. The best part is that I filmed and produced a three and half minute video clip for my YouTube channel so we can relive the memory any time we want.
www.youtube.com/user/gofishdanshow
If that wasn't enough, Jeremy was so happy with our day on the water that he gifted me a free oil, lube,filter and tire rotation at Webster Square Tire & Auto!
As they say, timing is everything.
Until Next Time – God Bless & GoFish!