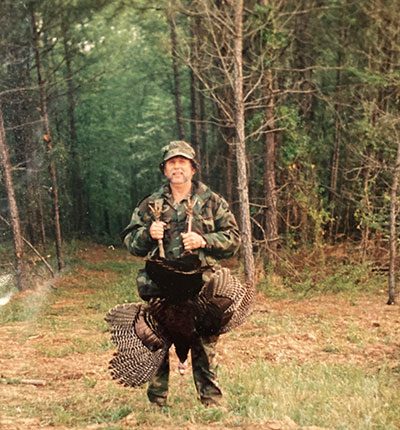 By Ronnie Parris
He was born April 15th, 1940. He grew up in Robbinsville in Graham County, North Carolina. The biggest part of his life he worked for the North Carolina DOT. He married Gayle, the love of his life, whom he cherished for 60 years, til the lord called him home on March 1st of 2023 after a long illness.
I was just one of many that was blessed to know and love Bill. He was just one of those people that had only love and kindness to give to anyone who he came in contact with. It's easy to see why he and Gayle got along so well as they are cut from the same cloth. I can't say enough for the kind of people they are. I could write for days about how Bill helped this person or that person. Any kid wanting to get into hunting only had to ask and Bill would be the first to see they had what they needed.
We used to camp opening week of bear season on Santeetlah and bear hunt with the hounds. There was always a bunch of us Bill had taken under his wing, helping us with whatever we needed so we could spend as much time in the woods as possible. When my kids started competing on the shooting team and needed different sights for their rifle, Bill was right there helping them and wouldn't let them pay for them. He said all you owe is to do good and stay in school and keep out of trouble.
I would like to say Bill was a friend, but he was so much more than that. He was more like family. As far as a true mountain man, hunter and fishermen, there was none better. He loved bear hunting and following the hounds and killed a good many bears in his life, but the thrill for Bill was listening to the hounds. Which, if a dog was lucky enough to get bought by Bill he was gonna get the best treatment and care til he passed on from this life.
His true passion was turkey hunting. Without a doubt he was the best turkey caller around. He taught me so much about hunting turkeys. If I ran into a gobbler I couldn't work, I would call Bill and usually he would have an idea on how to outsmart him. Turkey season is fixing to open and I can't wait to take one of Bill's calls into the woods and talk to an old Tom.
This past bear season was the first time since I met Bill, over 35 years ago, that he wasn't able to get in the woods for bear and turkey season. It's gonna be a little sad when we hit the woods this fall and don't hear Bill on the radio, checking on Bigfoot, Fatman, Coonfoot, Snowman, Mr. Green and the Edwards boys.
When I'm sitting up against a big poplar tree talking to an old gobbler with one of his calls, I hope he's up there watching the show saying that's my ol buddy right there. I hope he's proud of me. I hope he knows how proud and grateful I am to have known him and how blessed I feel to have been one of his many friends. He's gone on to a far better place, but I can guarantee you one thing… this mountain legend will never be forgotten.
Ronnie Parris is owner and head guide of Smoky Mountain Outdoors Unlimited-Fontana Lake Fishing Guides, headquartered in Bryson City, N.C., heart of the Great Smoky Mountains www.smokymountainoutdoorsunlimited.com; (828) 488-9711.