Penn Fishing University Six-Day Trip Aboard Searcher Finds Tuna and Yellowtail in Abundance
By Steve Carson
The 22 anglers who headed out aboard Captain Art Taylor's Searcher out of Fisherman's Landing for a late-September six-day Penn Fishing University long range adventure found tuna and yellowtail in abundance, along with dorado, and even a "once in a lifetime" encounter with a huge group of sperm whales.
Yellowfin tuna
Definitely the stars of the trip, and we ended up with over 300 of these beauties from 10 to 45 pounds, the species is deservedly the world's most popular saltwater game fish. Most were caught flylining live sardines on 25 to 40-pound mono topshot over 50-pound superbraid backing, on mid-size reels like the Penn Fathom FTH15 or FTH25N on a 7 or 8-foot rod. Terminal rigging was about 4 feet of matching-test fluorocarbon leader, and the sardine pinned on a size 1/0 or 2/0 Owner ringed Gorilla J-hook.
Trollers fooled their fish mostly with the colors of black and purple. Regulation tuna feathers, 4-inch Braid Blackjacks, and Rapala X-Rap XR30MAG's in those colors all worked. Some yellowfin were taken on 3-ounce green/silver Williamson Herring Jigs, and this writer got some spectacular topwater strikes throwing a sardine-color 2-ounce Williamson Jet-Popper.
Bluefin tuna
The group underachieved somewhat on the bluefin, and only 16 of them hit the deck, ranging in size from about 22 pounds to the jackpot winner at 46.8 pounds. The same basic live rigging as used for yellowfin worked, but as always with bluefin, choosing the perfect live sardine was critical.
Yellowtail
Exceptionally good yellowtail fishing was on tap for two days of the excursion, with the tally hitting 180 quality-grade yellows from 18 to 28 pounds. Metal jigs fished Yo-Yo style were the top producers, with 5-ounce blue/silver Williamson Herring jigs or blue/white Sumo JR jigs being the most popular choice.
For Yo-Yo fishing, most anglers were using a high-speed narrow 4/0-size reel, like the Penn Baja Special 113HN filled with a 100-yard topshot of 40 or 50-pund monofilament over 65-pound superbraid backing.
Whales Ahoy!
While out looking for tuna about 30 miles outside of San Benitos Island, the group had one of the most remarkable whale encounters of the past two centuries. Captain Taylor carefully had the Searcher idling forward, as the vessel was surrounded by four distinct pods of sperm whales, each consisting of at least 10 to 12 females and a few juveniles; well over 40 whales in total. We watched the big cetaceans for nearly 30 minutes, a truly "once in a lifetime" opportunity.
Rounding out the fish catches were about two dozen dorado, and about the same number of skipjack tuna.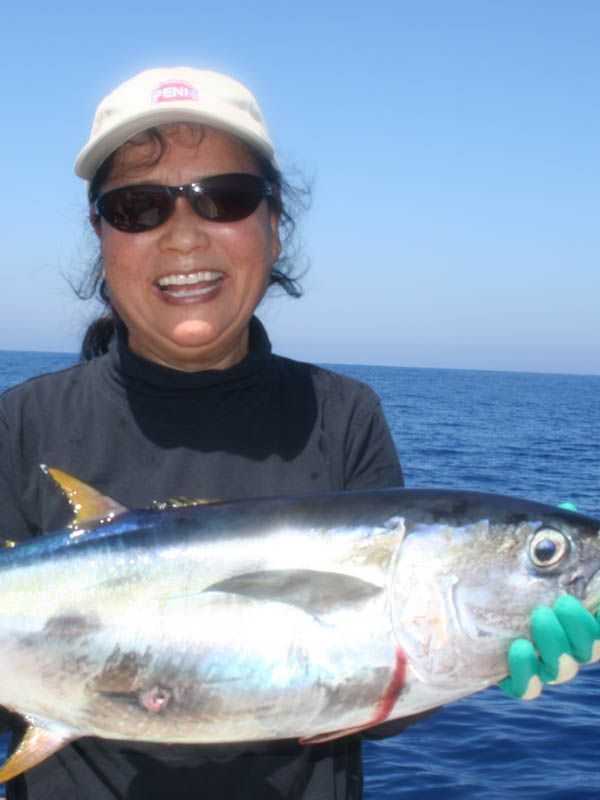 Great experiences
Aren Rooney of Garden Grove, CA, who was on only his second long-range trip, had a typical experience. "I limited out by catching 14 yellowfin tuna, 10 yellowtail, 2 dorado, and 1 bluefin tuna. The highlights of the trip were catching my first-ever bluefin and seeing those whales. I learned all about the new small 2-speed reels that are coming out, and my goal for the next trip is just to catch fish and have fun. The crew of the Searcher is excellent, and they are always encouraging everyone."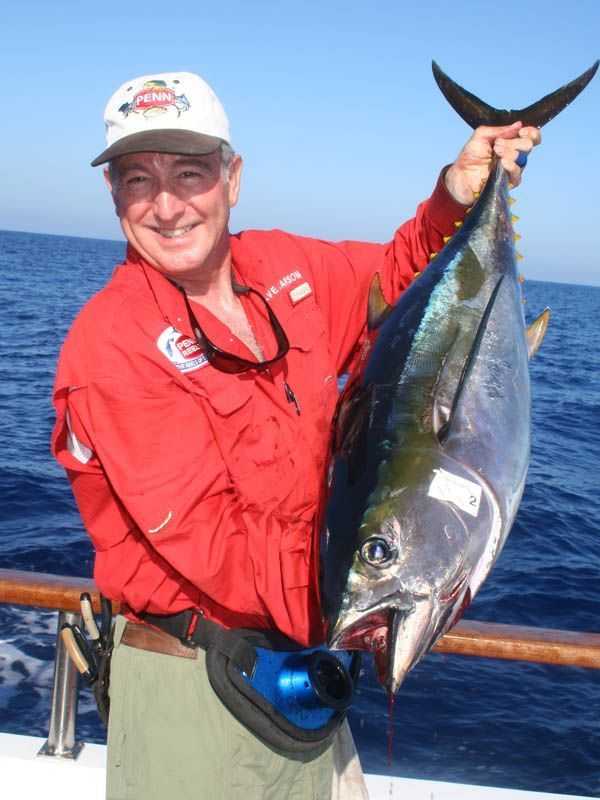 Captain's summary
Skipper Art Taylor observed, "We had excellent quantities of yellowtail and yellowfin tuna with our catch, but we also got a sample of the quality-grade bluefin tuna. The conditions were very calm, which helped us spot kelps, although we caught fewer dorado than expected. Water temperatures ranged from 72-79 degrees.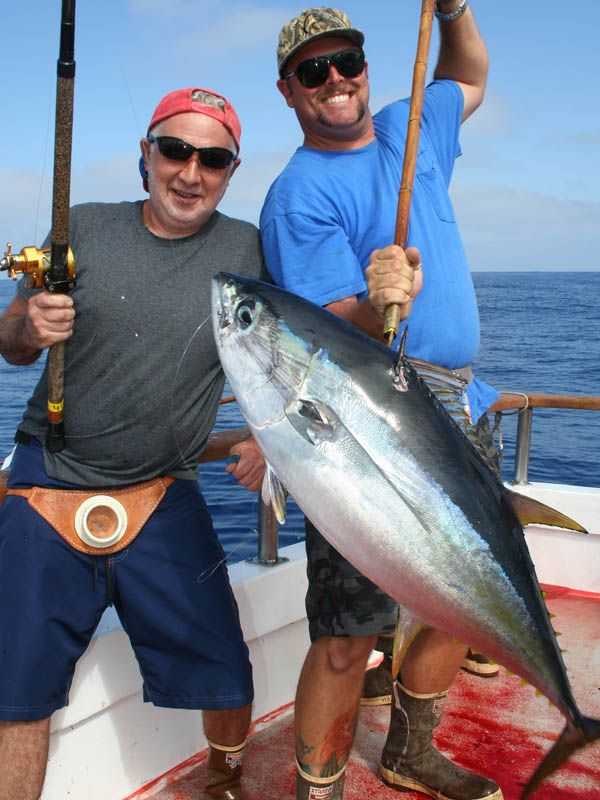 Taylor added, "Overall, our offshore season this year has been excellent. The stock of yellowfin tuna is in good shape, with lots of fish ranging from 8 to 50 pounds. For several days near the end of August, we had yellowfin tuna fishing equal to Alijos Rocks at just 100 miles from San Diego, along with very good numbers of yellowtail under kelp paddies."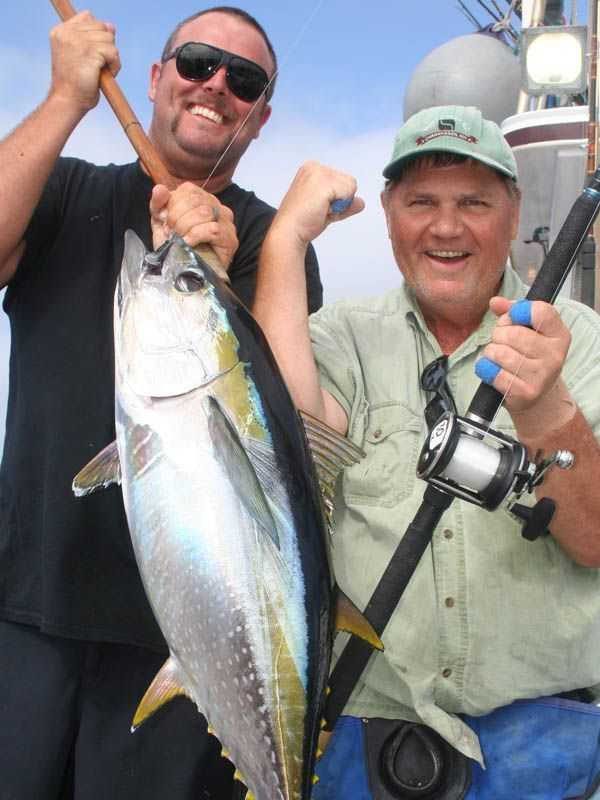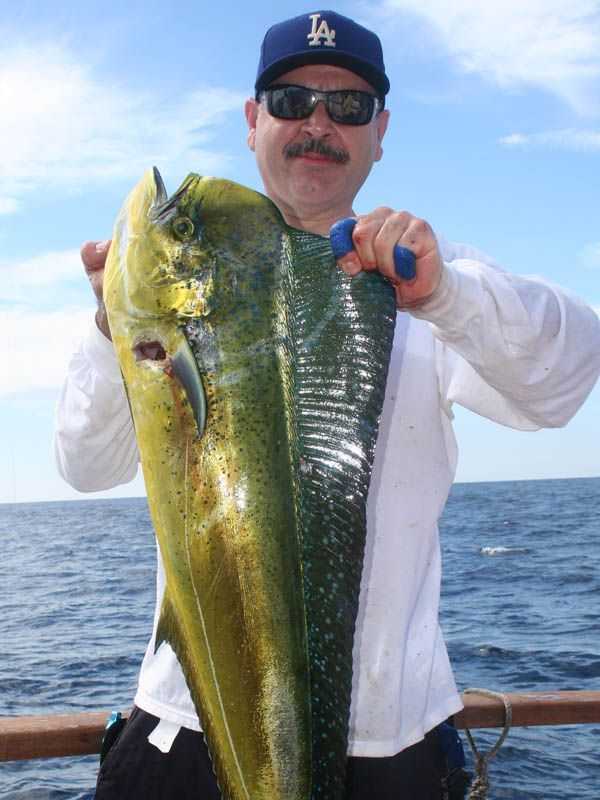 Jackpot winners
Overall jackpot honors went to Dale Changnon of Healdsburg, CA, whose 46.4 pound bluefin tuna earned him a new Penn International 16VSX 2-speed reel and a nice tuna plaque. Second place was taken by Darrel Chapman of Huntington Beach, CA for his 44.8 pound yellowfin tuna, which was also the biggest fish caught on a demo reel, earning him a Penn Fathom FTH25N reel, and third place went to Rob Bellrose of Lompoc, CA for a 35.8 pound bluefin tuna.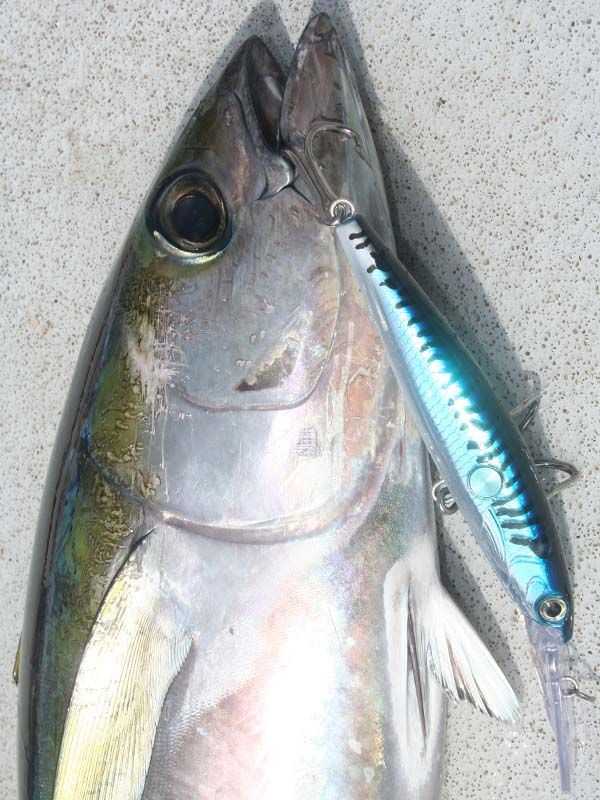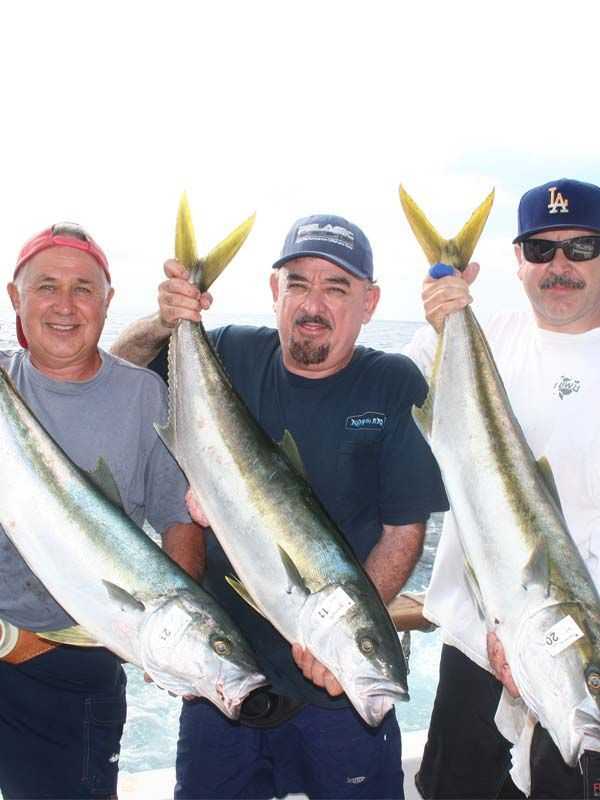 Next year's PFU 6-day excursion aboard the Searcher will take place Sept 14-20, 2013. Contact the Searcher at (619) 226-2403 for reservations or more information.