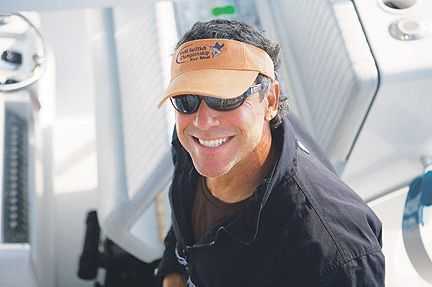 TRIBUTE
Jose Wejebe
1958-2012
The Coastal Angler Magazine family of co-publishers, office personnel, writers, artists and distributors join with our readers from around the world in lamenting the loss and honoring the life and craft of Jose Wejebe. The legendary fisherman was tragically taken from us when his single-engine, kit plane crashed into a field off the runway just after takeoff at Everglades Airpark in Everglades City, Florida during the afternoon of April 6, 2012.
Wejebe, the laid-back, charismatic host of the popular saltwater fishing and fly fishing television show "Spanish Fly," broadcast on the Outdoor Channel, was honored at a Celebration of Life on Sunday April 15, 2012 at the IGFA Hall of Fame & Museum in Dania Beach, Florida.
The iconic angler was born in Havana, Cuba in 1958 amidst the political and social upheaval of the Cuban revolution, eventually fleeing with his family to Miami, Florida where, as a young boy, he learned to fish the waters of Biscayne Bay. By the time he'd reached adolescence, Wejebe was devouring books on fishing and corresponding with legendary anglers Flip Pallot, Lefty Kreh and Stu Apt.
During his early teens Wejebe took his earnings from a job at a gas station and bought his first boat, a Crosby skiff, which enabled him to earn extra money on weekends by spear fishing and diving for tropical fish, and which allowed him to log many valuable hours on the water, culminating in his receiving his Captain's license and becoming an inshore charter captain by the time he was 18-years-old.
After several years as a diver and marine mammal trainer at the Miami Seaquarium, Wejebe's passion for the open water drove him to become a full-time fishing guide; and though he continued to fish his hometown waters of Biscayne Bay, he also explored the Florida Keys, Florida Bay and Everglades City, always seeking a new secret spot of his own.
By the late 70s, Wejebe's talents as a fisherman, his friendly demeanor and his bi-lingual abilities landed him a job on an offshore fishing boat in northwest Bahia Pez Vela, Costa Rica. After only a few years the experience gained in running larger offshore boats and his exploration of such bucket list fishing destinations as Cabos San Lucas, led Wejebe to purchase his own offshore boat and to spend all his time inshore and offshore fishing, building his business and reputation as a guide by teaching his clientele new techniques and different ways to catch the same species. During this time he enjoyed a high degree of success fishing tournaments around the Florida Keys, taking first place with Del Brown for two consecutive years in the Fishing International—the first catch-and-release tarpon tournaments held at Sugar Loaf Lodge; and capturing first place with Bill Levy, in the Islamorada Bonefish Tourney, just to name a few.
During the 80s Wejebe had arrived at a point where he was respected by the entire fishing industry through his relationships with manufactures such as Mercury and Shimano and his working of boat shows, his field-testing of tackle, and by authoring articles and reports which reflected his passion for the craft of fishing.
It was during this time that his former mentor, Flip Pallot, asked Wejebe to join him on Pallot's award winning television show, "The Walker's Cay Chronicles."
"Jose's appearance on numerous shows always included much more than his fishing skills," said Pallot, reflecting fondly on his former protégé.
By 1995 top ESPN producer Jerry McKinnis had signed Wejebe up for his own show "Spanish Fly," which debuted on the newly formed ESPN2 network, and which became an instant success. The combination of Wejebe's laid-back onscreen presence, his insistence on displaying new, innovative technological advances in the field, and the exquisite cinematography of the scenery provided by an apt choice of locations for filming soon led "Spanish Fly" to a number one rating for fishing shows. In 2001 Wejebe created a new series called "Vida Del Mar," which were short vignettes of beautiful underwater footage shown in between other outdoor shows on ESPN2.
In addition to his fishing and television careers Wejebe always insisted on making time for charitable endeavors benefiting such institutions as the Make a Wish Foundation, Big Brothers and Big Sisters, and Cystic Fibrosis.
Jose Wejebe leaves behind his daughter, Kristin, and his ex-wife, Lynne Calero.