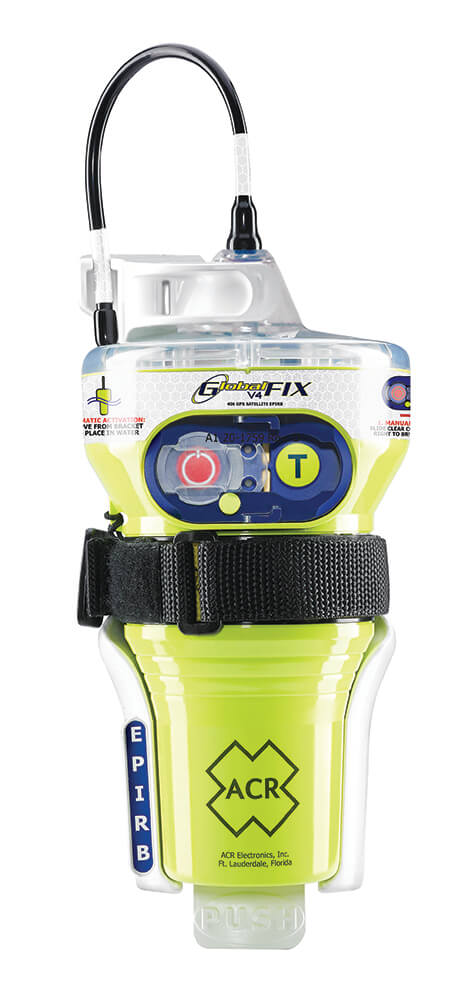 The global leader in safety and survival technologies, ACR Electronics, Inc., recently released the GlobalFIX V4 Emergency Position Indicating Radio Beacon (EPIRB). ACR has taken its world-renowned EPIRB manufacturing expertise to create one of the highest quality and lowest cost EPIRBs available.
The GlobalFIX V4 is competitively priced and offers tremendous value with new features. Notable features include a user-replaceable battery with a 10-year battery life, internal 66 channel GPS, a four LED array strobe light, and a new wrist strap for hands-free carrying in an emergency evacuation.
The GlobalFIX V4 applies three levels of integrated signal technology: an internal GPS for pinpoint positioning, a powerful 406 MHz distress alert, and 121.5 MHz homing capability to effectively conclude final stages of rescue. The onboard GPS can quickly pinpoint the sender's position to within 100 meters. As search-and-rescue personnel is deployed, a separate homing signal and integrated LED strobe light guide rescuers to the beacon's exact position.
For more than 60 years, ACR has been designing and manufacturing quality products to save lives. The new GlobalFIX V4 has gone through months of independent testing to ensure the design, functionality, and performance live up to the ACR standard of excellence.
The GlobalFIX V4 is also compact enough to be stored in your ACR RapidDitch abandon-ship bag along with all of your other safety gear. For mariners who want an EPIRB with longer operational life and more output power, ACR will continue to offer the GlobalFix iPRO and PRO range of EPIRBs.