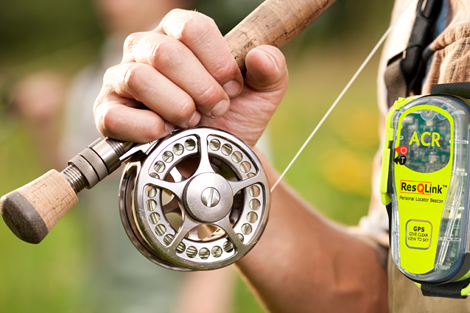 At 4.6 ounces, the ResQLink distress beacon weighs less than a couple of energy bars and topping just 3.9 inches, it's smaller than the cell phone in your pocket. Small and mighty, ResQLink PLB is a full-powered, GPS-enabled rescue beacon designed for anglers, pilots, and backcountry sportsmen.
With three levels of integrated signal technology—GPS positioning, a powerful 406 MHz signal, and 121.5 MHz homing capability—the ResQLink PLB quickly and accurately relays your position to a worldwide network of search and rescue satellites. A built-in strobe light provides visibility during night rescues.
Even in extreme conditions and situations, the ResQLink activates easily. Just deploy the antenna and press the ON button. With its powerful 66-channel GPS, the ResQLink guides rescuers to within 100 meters of your position. And, in the continental U.S., search and rescue personnel is typically alerted in as little as five minutes.
ResQLink PLB is made in the U.S.A. Other features include no subscription fees, self-test and GPS-test features, typical performance 30 hours and non-hazmat battery. What's More, if you have to use your ResQLink PLB ACR will replace it free of charge.