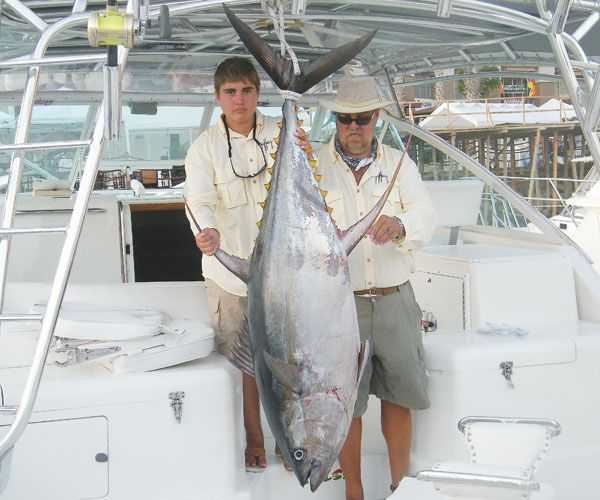 Charles and I heard that there were big yellow fin about 20 miles out from Cabo and decided to go see what was going on. The yellow fin is the third largest of the tuna. They swim up to 80 mph, making them one of the fastest fish in the sea. Yellow fin normally travel in schools with the same sized companions When we arrived with our captain we asked if it was true, and he said that there were a lot tuna being caught around the 180 lb mark. The next day we went looking for the monsters. Charles always wanted to catch one over 200 lbs. I caught one that was 329 lbs last year and it kicked my butt for over three hours.
We were rigged up with Lazer TroKar hooks, which are known for producing the sharpest fishhooks on the planet. I know, first hand, that they have launched a comprehensive line of hooks that will pierce and penetrate the toughest of mouths that cruise the world's oceans. With its symmetrically engineered three-sided point, superior quality wire and heat-treat and complete with welded eyes on select styles, there isn't an array of hooks available that compete with Lazer TroKar.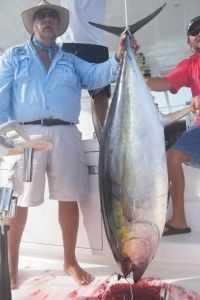 When we were out about 15 miles out we saw a lot of porpoises and went straight to them where we found hundreds of tuna tearing up the surface of the water. We started casting and had two on immediately though they were too small at 60 to 80 lbs. Then we saw birds diving and that's when we saw the monsters. We trolled a while then we put on sardines. That's when it happened all of once my son's reel started singing zzzzzzzzz and the fight was on. Over four hours later he landed a 245 lb monster tuna—not bad for a 15 year old boy!
If you to watch our shows we are on WFN or you can watch them on our web www.asobonline.com if need info about fishing in Mexico write at thegriz@asobonline.com we would love to hear from you.