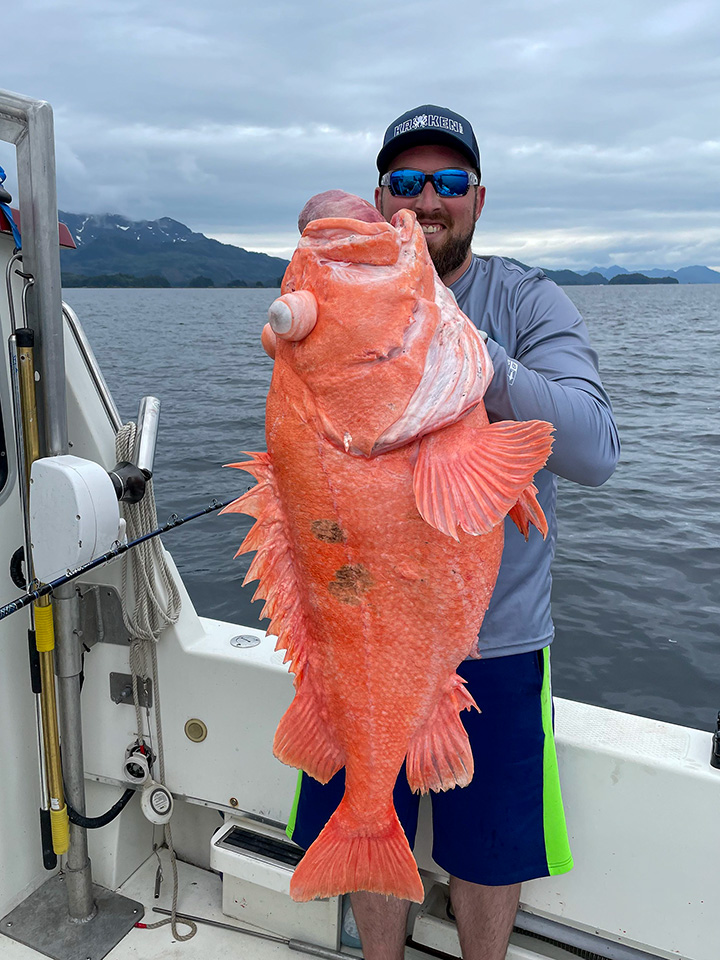 Alaska's new state record shortraker rockfish was caught in late July. On uncertified scales at  remote Port Ashton Lodge, it weighed 48 pounds, which would have crushed the existing IGFA world record by about 4 pounds. The angler, charter guide Keith DeGraff, however, chose to preserve the meat by bleeding the fish instead of waiting to get an official weight on certified scales.
Days later, when DeGraff finally got a certified weight in front of an Alaska Game and Fish representative, the fish weighed 42.4 pounds, which was good enough to set a new Alaska state record.
"It feels like the biggest accomplishment of my fishing career," DeGraff said. "This species takes time and dedication to drop down to such huge depths, and I spent a whole lot of hours and reeled miles of line trying to break this record, and it finally came to fruition."
DeGraff caught the fish from Prince William Sound on July 28 with his fiancée and some friends from a rented boat. DeGraff was fishing 1,000 feet deep with a conventional (non-electric) Avet 2-speed 30/2 reel, a custom-built Adventurous Custom rod built by Derwood Roberts, 3-pounds of weight, 80-pound braid and a circle hook baited with salmon and herring.
The previous Alaska state record shortraker rockfish weighed 39.1 pounds. It was caught by Henry Liebman in 2013. The IGFA all tackle world record weighed 44.1 pounds. It was caught in 2017 by Angelo Sciubba at Cross Sound, Alaska, but is not recognized in the Alaska Department of Game and Fish list.
For more information, see www.adfg.alaska.gov.