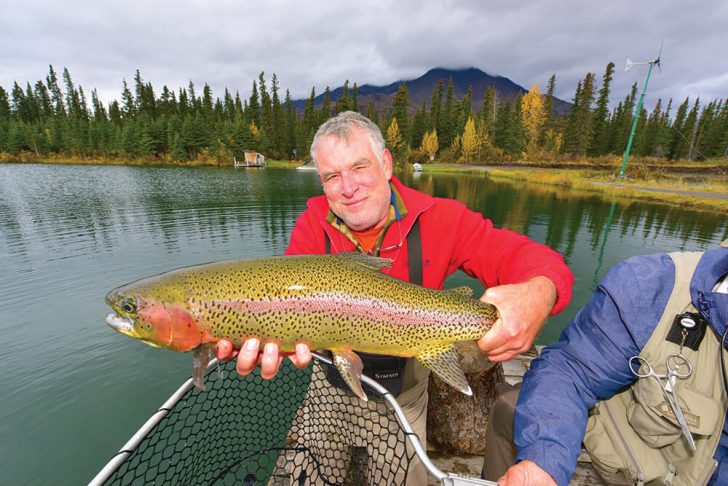 By Christopher Batin:
Alaska sportfishing offers wilderness realized rather than imagined and quickens the pulse in all types of anglers, from panfishermen to veteran world anglers. When an angler returns from Alaska and shares an evening on the flats or at the catfish hole with friends, talk quickly turns from big catfish stories to Alaska fishing adventures.
The reason is obvious.
If you are searching for action, the roostertails of spray generated by a 50-pound chinook salmon on a five-jump run through shallow water will satisfy your need. If the sight of huge shad migrations have you tying on a lure in finger-fumbling fashion, wait until you view pristine rivers teeming with five species of Pacific salmon that are counted not by the thousands, but by the millions. Valdez anglers see the return of as many as 11 million pink salmon to intertidal waters.
Choosing the right Alaska adventure is complex, with its various runs, timing, and weather. Knowing when to go, where to go and with whom is key.
I've fished and covered Alaska's fishing for more than 42 years, and I've helped countless anglers find the trip best suited for them. Each angler has separate needs. In the freshwater realm, here are some of the top considerations for a can't miss adventure full of fish-hooking action and personal service worthy of the Alaska experience.
Interior Alaska
If you're looking for a quiet place to fish, with scenery, comfortable cabins and located far from the crowds, drive down to Denali National Park and visit Kirk Martakis at Fish Denali. He offers several lakes on private property that offer about 3,000 wild rainbow trout to 31 inches and trophy-sized grayling. They cruise the lake like sharks, and the clear water makes sight casting to them with single-hook jigs, nymphs or topwater lures too much fun. It's some of the best lake rainbow fishing I've experienced. Cozy, fully equipped cabins located at lakeside offer everything you'll need for a multi-day stay, including Wi-Fi and multiple bedrooms. It's a good choice for large families, fishing buddies or couples who want a quiet, laid-back trip with some of Alaska's best scenery (http://www.Fishdenali.com).
Float fishing offers a change of scenery around each turn in the river aswell as great fishing opportunities. Alaska River Tours offers remote float trips along the road system, with neither the crowds nor the expense. Depending on the season, owner Reinhard "Reini" Neuhauser chooses the best rivers for grayling, trout, sheefish, pike, salmon, and char. On overnight excursions, he provides tents, camping gear, and boats. You arrive ready to fish. I recommend the overnight float, which makes the most of Alaska's 19-plus hours of daylight. Fish when it's light, and float during the remaining five hours from midnight to the 4 a.m. during the twilight period, when it's still light enough to read. It's a heady trip that is only surpassed by his camps and food served (www.akrivertours.com).
The Kenai Peninsula
For a quick day of fishing, the Kenai River offers big king salmon to 70-plus pounds that sizzle drags. Guide Joe Connors was my instructor back in my college days, and he's still as tough on catching fish as he was on me learning public speaking. He's a long-time Kenai veteran, and his guides at Big Sky Charter and Fish Camp have a long-time, sterling reputation for helping anglers of all skill levels catch silver and sockeye salmon, char and rainbow trout in the 25- to 34-inch range. He offers comfortable riverside cabins, evening barbecues and a quiet place to enjoy the river (www.kenaiguide.com).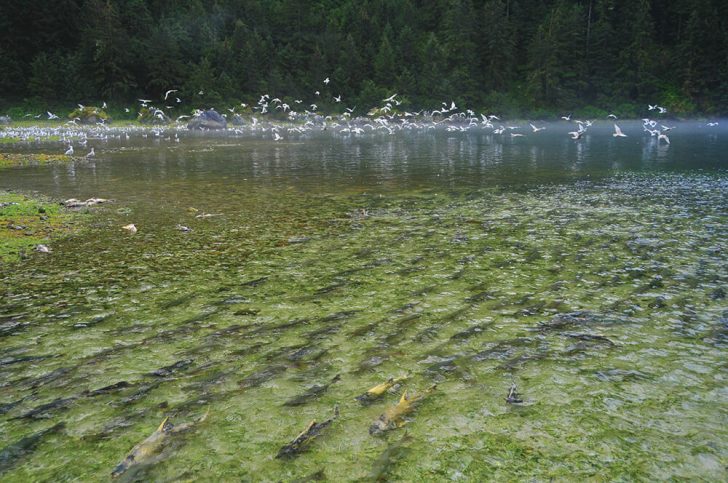 Bristol Bay
Bristol Bay lodges offer the crème de le crème of Alaska sportfishing in these western Alaska waters, where tens of millions of salmon move into various watersheds each year. A couple hundred lodges and camps offer a variety of services, from bare-basic outfitted trips to spectacular lodges with fly-out fishing, shore lunches, and gourmet meals.
Mike Gorton runs Goodnews River Lodge, the only lodge located on the 400-mile-long river that offers some of the best boat-accessible river fishing for silver salmon, rainbow trout and char you'll find in the region. It is a mixed-bag fishery, where no matter the weather, you can fish. There wasn't a stretch of the Goodnews when friend Mark Wade and I fished that didn't have silver salmon hammering our flies and big rainbow trout swarming in numbers like piranhas. The guides have great people skills and are skilled in their knowledge of the river (www.goodnewsriverlodge.com).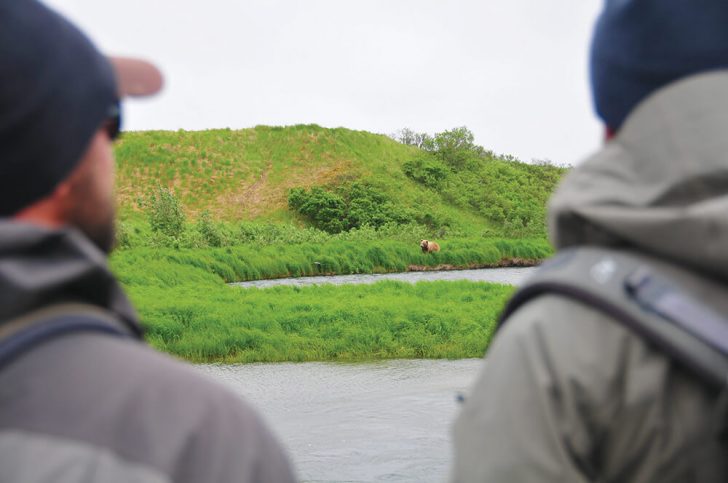 Southeast Alaska
In southeast Alaska, Marlin Benedict, of Fish Wrangell, offers freshwater fishing for salmon, cutthroat trout, and char in the remote, beautiful jungle streams of the Tongass National Forest. You don't walk long distances here, as most of the good fishing is within a half mile or so of saltwater, which also guarantees fish as fresh as they come. The most fun in fishing these shallow waters is watching salmon attacking your fly or lure. Personal service is top-notch (www.fishwrangell.com).
Chris Batin is editor of The Alaska Angler and author of nine award-winning books and Alaska fishing DVDs. He is featured as an Alaska legend in a new book, "Alaska's Greatest Outdoor Legends," published by the University of Alaska Press. For over 40 years, he has run The Alaska Angler Information Service. Discover more at www.AlaskaAngler.com.