by John Cassani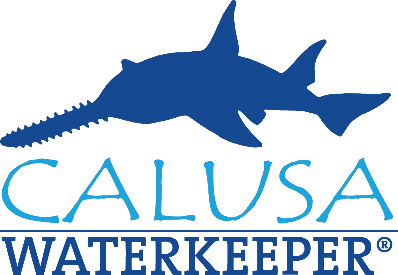 Always a Bright Side, by John Cassani, Calusa Waterkeeper
February is hopefully the last month for potentially very cold temperatures. It's been a tough winter season for manatees in southwest Florida due to the persistent red tide blooms in coastal and back bay areas and unusually cold temperatures in January. Unfortunately, manatee mortality from boat collisions is also a threat and Lee County leads the state again this past year in that category.
Please follow manatee speed zone regulations and stay alert to manatees in distress that may not be able to avoid collisions with boats due to the stress of red tide toxins or cold snaps. Report manatees in distress or mortalities to the FWC Wildlife Alert number 1-888-404-3922.
Perhaps one positive outcome to plummeting water temperatures is the sensitivity of tropical exotic fishes that cannot tolerate the cold water. Fish kills of African cichlids and walking catfish have been reported from various coastal areas. Reducing the populations size of any invasive exotic fish is generally considered beneficial.
Please report fish kills or algae blooms to the Calusa Waterkeeper at 239-444-8584. Also consider joining our network of volunteer Rangers. For more information visit us on Facebook or on the web at www.calusawaterkeeper.org.