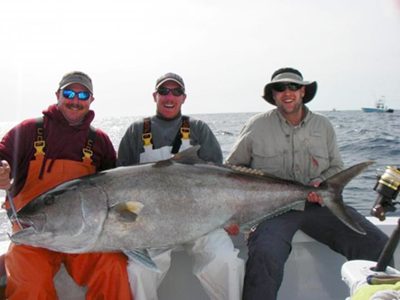 By: Capt. Bruce Andersen 
There are so many types of fishing available in the keys that sometimes it's hard to figure out what to go fishing for. One of my favorite things to do in late winter and early spring is to hit the wrecks offshore of the keys. My two favorite kinds of wreck fishing this time of year are fishing the 120-to-200-foot depths for mutton snapper and hitting the spots a little deeper from 250 all the way out to 400 feet of water for amberjacks.
Mutton snapper can be caught year-round here in the keys. Many people get very excited about the spawn that takes place in early summer, and for good reason. The fishing during the spawn can be fantastic, but through the years my favorite time of year to fish for large mutton snapper on the wrecks is right now. The month of February is a great time to target these fish and the fishing can be very consistent. Often a particular area that's holding bait will seem to attract muttons for weeks with new fish filling in day after day.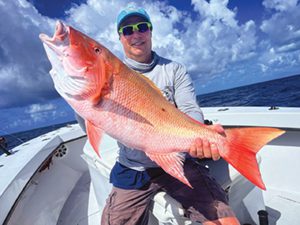 Another awesome fish to target on the wrecks this time of year is the greater amberjack. While the best fishing for amberjack usually comes a little later in the spring, I've always found that many of the biggest amberjacks caught off the Keys will be taken right about now. With the full moon of February being a great time to target some of the biggest jacks of the season.
Every year there are usually a few Amberjacks taken in our area that top the #100-pound mark. Thinking about this takes me back to a fishing charter about 10 years ago where we caught the biggest jack I've ever been a part of catching on the old Capt. Easy. At that time, I had a mate named Reggie. It would take me about 5 of these articles to begin to describe Reggie and none of them would be appropriate enough to be printed in this publication! Let's just say Reggie was a real character and one of the most fun people I've had the pleasure of fishing with over the years. The customers wanted to try to catch something big, so we trolled up about a 10 pound blackfin tuna and dropped it to the bottom on some heavy tackle hoping for a large jack. That fish was landed by a lady angler named Lexi who came out that day with her husband Adam. Lexi whooped that amberjack without any help from anyone. She was one of the toughest anglers I've seen. She fought it for a good ½ hour and when it came into view behind the boat, we couldn't believe it. That fish wound up weighing in at #130 pounds back at the dock.
One of the great things about offshore fishing, especially in the Keys, is you never know what you're going to come across on any given trip. It's a great time to get out there and give some bottom fishing a try.
— www.captaineasycharters.com
You can reach Captain Bruce Andersen at Capt. Easy Charters,
MM 85, call 305.360.2120 or email at: captbrucekey@comcast.net