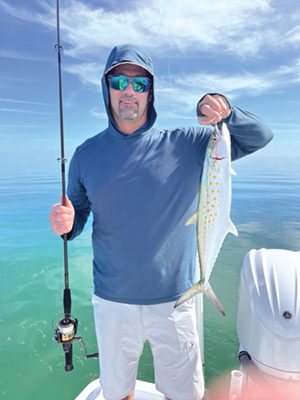 By: Capt. Greg Poland 
The fishing in the Gulf of Mexico has been on fire with lots of spanish mackerel and the occasional kingfish mixed in, and if you are lucky, you might even find a cobia swimming up your chum slick.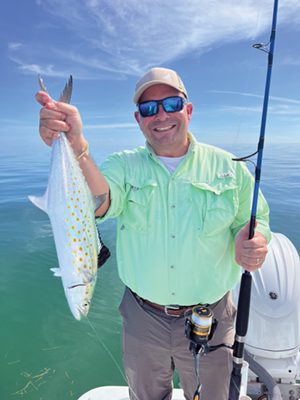 We had a nice size cobia hooked up the other day but unfortunately, the tax man, better known as a bull shark, decided to take a huge piece of him before we could get him into the boat.
For this style of fishing, you will want to load your live well with pilchards or live shrimp along with a few boxes of chum and head on out to the edge of the Gulf where you will find a group of boats on the mackerel grounds. When you get to your desired location, drop your humbug over and create a chum slick then anchor up current and start casting with a jighead.
With a small trace of wire and twitching it erratically, before you know it you will be hooked up. If the backcountry is more your style, well the bite for redfish has been as good as I have ever seen it.  Just last week, I took friends Braylon and Rylan out for a 1/2 day over is the Glades, they landed 42 redfish and a handful of snook.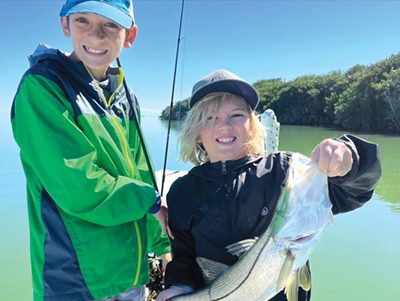 These guys live in my neighborhood and fish almost every day of the week.  It's such a pleasure to watch them cast and constantly be hooking fish.
Big shout out to team Hillbilly Deluxe who took first place in both the Cheeca Sailfish Tourney and Florida Keys Gold Cup. Jess Jorgensen took top angler with 9 sailfish releases while her fiancé Capt. Trevor Frins was at the helm to watch the team release an impressive 16 out of 20 Sailfish.
— Contact Capt. Greg at 305.393.3327 or email
gregpoland@icloud.com   |  Instagram: gregpoland
Facebook: Fishing in the Florida Keys with Capt. Greg Poland