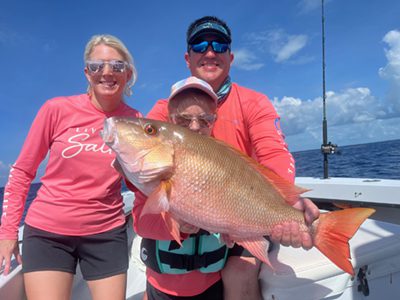 By: Capt. Bruce Andersen 
Spring is here, families are pouring into the keys for their spring break vacations and there's no better time for a family to get out on the water and experience the great fishing the keys have to offer. I have always felt that the best parts of life are the experiences and adventures. I know that for my family, some of my greatest memories, especially with my son Ian and daughter Abbie, are the many times out Fishing, and having fun on the water. I'll bet that when your kids are all grown up they may not remember what they got for Christmas when they were 10 or what their birthday present was when they were 12, but there's a very good chance they'll remember their first Florida Keys fishing trip.
We've got so many different types of fishing here in the keys that there's something for everyone. If you have younger kids that are inexperienced or may lack a little patience we've got options like snapper fishing on the reef, bottom fishing offshore, or Spanish mackerel fishing in the gulf where there is fast action on light tackle to keep them busy and engaged. If your kids are a little more experienced and patient, we've got big game options like sailfish, tuna, dolphin, and wahoo, offshore to give them the thrill of a lifetime.
On my charters aboard the Captain Easy, we'll usually do a quick interview to gauge your level of experience and everybody's interests. Once we've got a good idea of that, I'll look at the weather and fishing conditions, and come up with a game plan that works best for your family or group. We've got good enough fishing to show your family a great time even on a short trip like a half day and with so many different types of fishing available, we can usually try a couple of different things on longer trips like a three-quarter or full day.
Most of the guides, especially the ones that have been doing it for a long time like myself, are very experienced with families and very patient with kids and we take the time to show them the right way to use the equipment and answer all of the questions they can come up with. So, if you're thinking about taking the family fishing this spring, I'd highly recommend it. Give me a call and let's get out there!
— www.captaineasycharters.com
You can reach Captain Bruce Andersen at Capt. Easy Charters,
MM 85, call 305.360.2120 or email at: captbrucekey@comcast.net