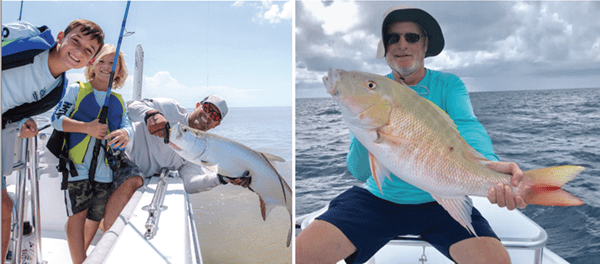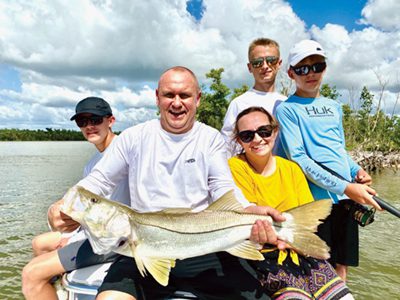 By: Capt. Greg Poland
It's summertime here in the tropics and I don't know about you, but it's been hot out on the water. For the last 2 months, I have been fishing under the shade of the bridges up and down the overseas highway but now that the silver kings are moving away from the bridges, I find myself back out in sunshine and by mid-day the bimini top has been going up.
My fishing for July will move from fishing locally to heading back to the Flamingo area and leaving early especially on those calm days where I will concentrate on shorelines for snook or juvenile tarpon. It is the perfect time for a family trip if you want to introduce your kids to the beauty of the Everglades. I have been fishing the Glades since junior high and love everything about it, as there is nothing like witnessing a pod of dolphin chase down a school of mullett or an osprey swoop down and grab a fish to feed its baby in one of the many nests you will find on the mangrove shorelines.
The fishing can be great with so many species and we are so lucky to have this National Park so close and accessible to us whether you are leaving the Islamorada area or driving in from Homestead. If you have never fished the Everglades, I would love to take you over for a day of fantastic sightseeing and fishing. And If dinner is more of what you're looking to catch and the weather is conducive, it's the perfect time to head out to catch a Mahi Mahi.
I have some great reports from some offshore guys finding the fish anyway from 400-1500ft, so get out on the water and look for the weed lines or is you have Sirus XM, turn on the fish mapping and follow the directions on the screen. I use it every time I go offshore and can honestly tell you it makes a difference and with the cost of gas these days it will direct you to the right areas to start searching.
I like to carry a good pair of binoculars and scan the horizon for floating debris and birds as they head over to what I find. If you can take along some live bait, you are ahead of the game, and if that's not possible grab a pack of frozen ballyhoo and thaw them out on your way out. Good luck out there, stay cool, and if you want to get out with me give me a call or stop by the Lorelei to say hello!
— Contact Capt. Greg at 305.393.3327 or email gregpoland@icloud.com
Instagram: gregpoland Facebook: Fishing in the Florida Keys with Capt. Greg Poland